I have been into the topic of entrepreneurship lately. I see it as the creative driver of the American economy, but I've been struck by the lack of comments from readers on previous blogs on the subject.
Maybe entrepreneurs are too busy with their young or potential businesses to be reading Swarfblog, or perhaps the machining community, which is the bulk of our audience, is too beaten down by what they have seen in recent years to want to tackle a startup.
I did meet two business starters at Weekend With the Pros, a conference for machinery dealers held last weekend in Detroit. One fellow was on his third business and had used Kickstarter to launch a leather goods startup. The other guy had started his own CNC repair firm. I think we are now in a particularly fertile period to begin a manufacturing business.
I'm surprised to have discovered several facilities and groups where potential startup people can learn machining and find access to mentoring and potential investors in the Chicago area such as Workshop 88 and Make-It-Here. I've also found an active community in Milwaukee and Madison, Wisconsin. I have to believe there is activity like this all over the country. Companies like Tormach and Pocket NC make good inexpensive CNC machines that startups can afford for prototyping and experimentation. There are also many good affordable machines for additive manufacturing.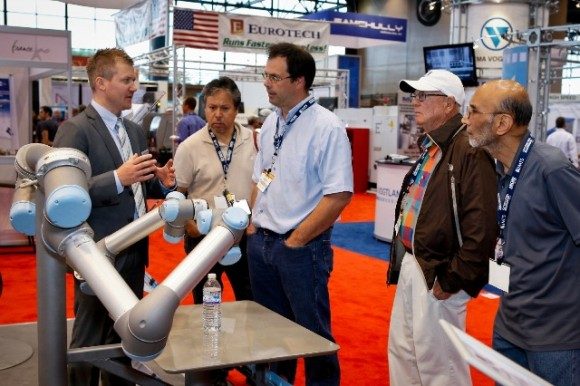 The equipment is available, and knowledge is being volunteered in many locations. I believe demand is always there for people who can solve a problem in the marketplace. Perhaps the classic current example is Universal Robots, whose founders in Denmark saw the problem and opportunity clearly. Companies desperately needed an inexpensive, easily programmable robotic arm in their factories. After literally living on crackers in a borrowed workplace, the founders built a viable prototype that won them seed money to produce a salable product. Within a few years they sold the company for $285 million to Teradyne, an American tech firm.
In Sunday's New York Times Magazine, a long piece discussed the importance of Facebook in propelling fledgling businesses to stardom. The focus was on Hubble, a three-year-old startup out of New York City, that markets lower cost contact lenses. Facebook's uncanny ability to target potential Hubble buyers using its vast data network has enabled Hubble's founders to build a business valued at $210 million. The 20-something guys who started it show us that fortunes still can be made if you solve a problem and get to market quickly. In Chicago, childhood friends Peter Rahal and Jarad Smith are selling their protein bar company RXBAR to Kellogg for $600 million. They started the company in 2013, rolling oatmeal nuts and sweet goo in Rahal's parents' basement at night and selling the bars in local gyms during the day.
Kellogg is willing to pay $600 million for the still small company because they desperately want to crack the healthy natural protein bar market that caters to young health-conscious buyers.
Many entrepreneurs fail or languish, but the ambitious, tenacious, persistent person who can provide a product that solves a problem still can find success.
Question: If someone offered you $100,000 to start a business what would you do?