In the fall of 2015 Michelle and Matt Hertel gave birth to a baby girl and a 5-axis CNC milling machine in Montana.
Their baby girl, Ruby, is flourishing and so is their other baby, the Pocket NC 5-axis mill, which sells for $4,000 naked, out of their small factory in Bozeman, Montana.
Before they moved back to Big Sky Country where they grew up, Michelle and Matt lived in the Seattle area. Michelle was a mechanical engineer at Boeing, and Matt was a night shift machinist at Electroimpact Corporation, which makes enormous automation equipment for the aerospace industry. He says that while on breaks he and a fellow machinist would fantasize about building a tiny but capable CNC machine for the sophisticated hobbyist.
He and Michelle ultimately decided to go back home to start a family and a company. They bought a house with a garage that became their workshop, then sold the house to finance their dream until they could build the prototype that would satisfy them and potential investors.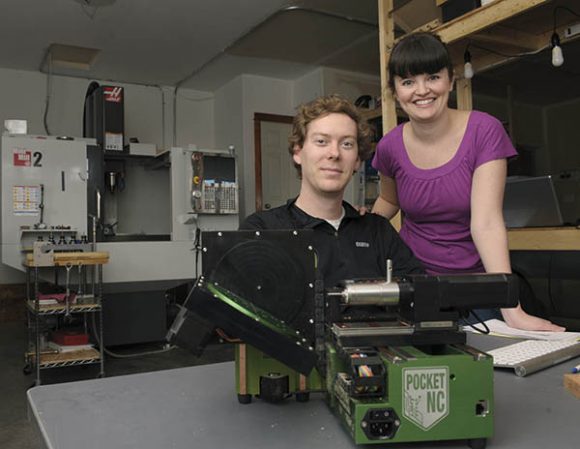 Their original plan was to build a 3-axis CNC mill but later decided that for a little more money and engineering work they could build a 5-axis machine that would give them a competitive advantage. The least expensive 5-axis machine on the market was $50-$60,000, more than ten times the price of their desired price point.
By August of 2015 they were set to go into production of their mill in their rented garage in Bozeman. Michelle was due to give birth in September. Their pitch video was polished and ready for prime time on the crowdfunding site Kickstarter. Each contributor of $3,500 on Kickstarter would get first dibs on a Pocket NC 5-axis desktop milling machine.
They hit their goal of $355,000, which enabled them to buy the materials for 100 machines. Kickstarter took a 5% commission, and they lost an additional 3% from the contributors who used credit cards, but it was enough to get going. Matt and Michelle did everything at the beginning. Now they are a group of four mechanical engineers and an assembly person. Michelle is working part-time.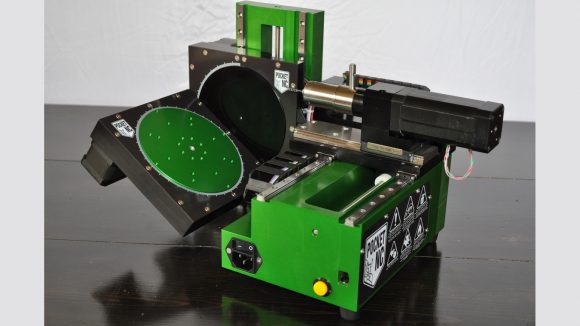 They surpassed their initial target of 100 machines, and each month's sales are beating the previous month's. They have sold more than 300 machines. Matt says they quickly discovered that the hobbyist market barely existed for a machine costing $4,000 to $6,000, depending on accessories, but they found that labs, universities, small businesses and professionals were looking for a tiny, versatile mill for experimenting and making parts quickly. There are Pocket NC machines now at NASA, MIT and the European Space Agency. Production has escalated to well over 20 machines per month, and Matt is looking for an additional employee, which is not so easy to find in Bozeman, which has the lowest unemployment of any metropolitan area in the country of over 200,000 people. It is the photonics (laser) mecca of America.
Obviously, a tiny mill that can be transported in a suitcase is not an Okuma or a Haas machine. It is not meant for material tougher to machine than aluminum and its tolerances are only guaranteed to +/- 0.005. It is not a mass market machine, but it has its niche, and it appears to be a fairly large and untouched market. A lab can find $5k in the cookie jar quite easily, so it can bypass many of the bureaucratic justifications.
For Matt and Michelle the next goal is to improve the strength and capability of their machine without dramatically changing the price point.
The Hertels are living the American Dream now, and they are doing so without killing themselves. Matt leaves the shop at 5-6pm to play with their little girl, Ruby. At a year and a half both of their babies are growing like gangbusters.
Question: Would you be interested in a Pocket NC Mill?