New Year, new opportunities. I foresee a flurry of activity in 2018 in acquisitions in the machining world. Recently one of the largest screw machine operations in the country changed hands. KKSP Precision Machining based in the Chicago suburbs was sold by its owner, CapitalWorks of Cleveland, to Mill Point Capital of New York.
CapitalWorks bought KKSP in 2012 with management participation. They successfully integrated the Monterrey, Mexico, plant which has around 25 Davenport screw machines with the Chicago and Wisconsin plants. The Wisconsin plant is in Pheasant Prairie, just across the border from Illinois. KKSP also has a plant in East China, Michigan.
Graff-Pinkert sold K&K Screw Products, KKSP's predecessor business, some of its first Davenports in the late 1960s. Today, the company has over 200 of the little dynamos producing 280 million parts a year.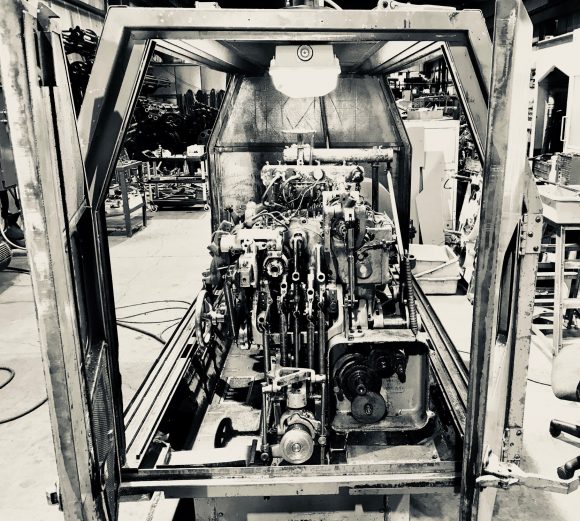 The Davenport machine is close to my heart. My father had a Davenport shop during and after World War II. Earl Brinkman, who had apprenticed to Mr. Davenport, the inventor of the original 5-spindle automatic, took a liking to my dad and helped him acquire the machines and get them running in 1942. Brinkman made a personal appearance at the inauguration of our new Oak Forest machinery warehouse in 1984.
Some people believe that the 3500-pound 5-spindle Davenport automatic won World War II for the Allies. The rigid Germans, despite their renowned engineering prowess, only ran 4-spindle multis during the War. Americans, running shells on the little Davenports with an index time of one second, slaughtered the Nazis in efficiency.
The basic brilliant design of Mr. Davenport and the improvements of Earl Brinkman are still very much alive, just ask the folks at KKSP.
******
I did not vote for Donald Trump because his impulsiveness scared the heck out of me, but after 14 months in office he has been remarkably successful. Yes, his behavior is unconventional, even erratic and scary, but the results are certainly positive in many ways.
From a business standpoint, many people in the machining arena changed their view of the world almost immediately after the election. It was a signal that the extremely corrosive attitude of the Obama administration toward business, especially represented in its oppressive regulation, was over for now. This has proved to be true. The EPA bureaucracy has really eased up. There is still enforcement, but the attitude has shifted from "gottcha" to "you need to improve this." Citations are much less frequent.
Equally important is the phenomenal rise of the stock market in 2017. Virtually all asset classes gained in value last year. Unemployment dropped to 4%. Oil production grew to a rate of 10 million barrels a day, the highest in 47 years. The tax bill of 2017 is a major positive for American manufacturing just with its depreciation rules. The pass-throughs for LLC firms are an improvement, though more of a break would have been nice.
I still think Trump is scary, but what a remarkably successful or lucky first year he has had.
******
Today's Machining World is moving into an exciting new arena, Podcasts. Noah and I will soon be interviewing some really fascinating people in the machining realm and disseminating the audio on Podcast smartphone apps. In recent months I have really gotten hooked on this radio show format. I think it will work well for us, and I am really stoked about trying something new. There is a flavor and feel that comes through on an audio interview that you just cannot capture in print.
Don't worry, the blog will continue; but I think the Podcast will be a terrific addition.
Question: Has President Trump been successful in 2018?