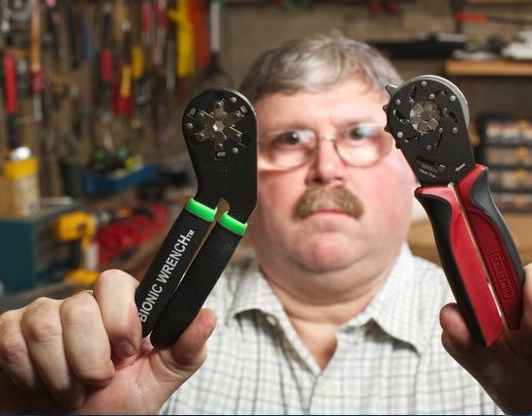 Sears is a dwarf of the consumer superpower it used to be when it was the place you first thought of to do your shopping for a washing machine or a screwdriver. Now it's becoming synonymous with screwing its suppliers.
ABC World News with Dianne Sawyer recently did a story about Sears hijacking the intellectual property of a brilliant tinkerer, Dan Brown. Brown built his little American company, LoggerHead Tools, on his elegant product called the Bionic Wrench, which grabs a nut on six sides so it won't slip, as so often happens with your not-so-trusty crescent wrench.
Brown works in the great tradition of American garage inventors, playing with his idea until he got it right. He did make one giant mistake reaching for the brass ring though – he trusted Sears to have an exclusive to sell his baby.
I've had a bit of an inside view of this saga because Graff-Pinkert sold a Hydromat to a supplier of Brown. A few months ago Brown notified my customer that he was cancelling his orders because Sears had cancelled him out for Christmas. The reason soon became obvious, Sears is selling a knockoff of the Bionic Wrench in its Craftsman Tool line. The wrench is a Chinese copy of Brown's product, which is blatantly clear to even the most casual observer, but Sears was willing to kick the little guy who allowed Sears an exclusive on his product.
If Sears was trying to kill LoggerHead Tools, they could not have had better timing. Brown had a ton of inventory in the pipeline for the Sears product. They stonewalled him on actually issuing the orders for Christmas, so he and his suppliers were in the quicksand of needing to produce to meet expected demand or face the prospect of not being able to deliver on time.
Since the Sears cancellation, Brown has laid off 31 workers and has been getting orders from other big box retailers, but he had accumulated a lot of inventory in anticipation of big Sears sales this Christmas. He is in a precarious spot because he trusted Craftsman, "America's Most Trusted Tool Brand."
Sears is not a big winner here. Brown is a resilient guy. He teaches design at Northwestern University and has been savvy enough to get some press coverage in The New York Times, which led to an Internet undertow against Sears and a national TV story on Diane Sawyer's ABC World News broadcast. Sears is being sullied by the lousy publicity of intellectual property theft, pounding the little guy, and outsourcing a growing American made product to China with the accompanying job loss. It's not a story that helps Sears endear itself to "Middle America," which Sears intends to sell to.
Eddie Lampert, a former hedge fund mogul, bought a controlling interest in Sears Holdings Corporation a few years ago, and the stock has lost value year after year since he bought it. Amazon and Home Depot are eating its lunch.
Sears was shrewd to grab hold of Dan Brown's Bionic Wrench in 2011, which they did well on. But by double crossing Brown in 2012 they now have a public relations mess on their hands, which is growing worse by the day. Brown has suffered a setback but his product is a good one, and it's building its brand outside of Sears.
I'm ordering one myself today through Amazon because Sears was sneaky, arrogant and stupid.
Question: Is it a lost cause today for a little guy to develop a consumer product?
Read The NY Times article here. Visit LoggerHead Tools here.
Watch the video of Diane Sawyer's story on the Bionic Wrench here.