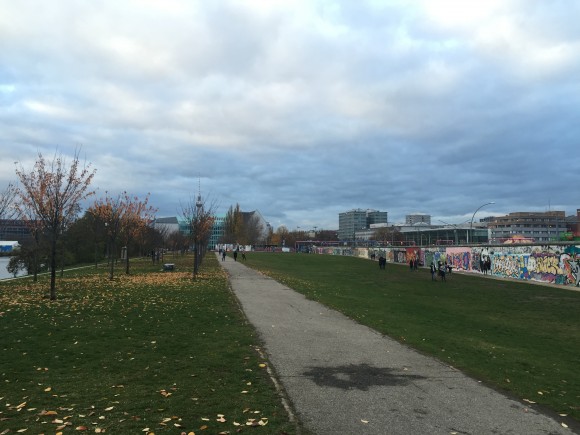 I spent last weekend in Berlin, Germany, for a little vacation after a business trip in Europe. When I told my dad I was going to Berlin and asked him his thoughts, he told me the same thing he said before I went to Munich, all that comes to his mind is one thing—Nazis. It's not like I don't think about Nazis and the Holocaust as I walk the streets of Germany, but I'm generally able to compartmentalize those visions in order to appreciate the many good German people I've met and the enjoyable cultural experiences of the country.
The following is a little peek into my Berlin experience last weekend—a pleasant, fascinating, enjoyable experience in a city that I would definitely visit again.
After you read my piece, please read the one written by dad, giving his thoughts on my trip, that coincided with the 77th anniversary of Kristallnacht, the coordinated terrorism of Synagogues and property owned by Jews throughout Germany and Austria by Nazis on Nov. 9, 1938.
My first impression of Berlin was its sheer vastness. Often to get from my hotel on the eastern edge of the city to a tourist destination or a night club it would take 25 to 40 minutes on an extensive public transit system. The city has a certain grittiness to it that reminds me of New York. It's not that it's dirty, but many of the buildings and the streets have a weatheredness to them. It's also a hodgepodge of architecture, featuring some centuries old churches and historical buildings that survived the war's bombings, along with buildings in what was formerly West Germany constructed after World War II in the '50s and '60s. In the section that was once East Germany, there are more modern buildings constructed after the city was unified following the end of the Cold War in 1989, as well as some buildings remaining that the Communist regime constructed. Much of the Berlin Wall still exists, running throughout the city, kept as a reminder of the brutal occupation by the Russians of East Germany for over 40 years. The wall was kind of beautiful to me as a tourist, colorful with graffiti over its entire length, its broken remains a symbol of freedom that overcame oppression. My understanding is that much of the wall was commissioned by the government to be painted by professional artists from around the world, although I saw sections that common local graffiti artists paint over every day. It seemed like many Berliners cleave to the wall as an important symbol of their identity. I was told on my tour that there is often an outcry when developers construct luxury buildings obscuring the Wall and the views of the other side of it.
Berlin souvenir shops sell mocking replicas of the hats that the Soviet soldiers who once occupied the East wore, and t-shirts with illustrations of old cars breaking through the Wall. Monuments featuring the Soviet hammer and sickle symbol remain, protected in impeccably groomed parks, faithfully cared for by the city. On my three hour bike tour we visited some of those Communist monuments and learned about life in the once divided city, but we saw no monuments remembering the Holocaust. On my tour our guide never once mentioned the Holocaust. I know from reading TripAdvisor there are many spots throughout the city which pay homage to the horror of Nazi times, such as the Holocaust museum, but I covered a lot of ground around Berlin that weekend and did not bump into even one Holocaust reminder just by chance. That's on the agenda for the next time there I guess.
Berlin has a great down to earth vibe. The prices are surprisingly cheaper than most European cities I've visited or major U.S. cities like Chicago and New York. Dinner prices generally ran between 10 and 30 Euros, although usually I just ate Döner Kebab sandwiches for 5 or 6 Euros from one of the thousands of Turkish joints spread throughout in the city.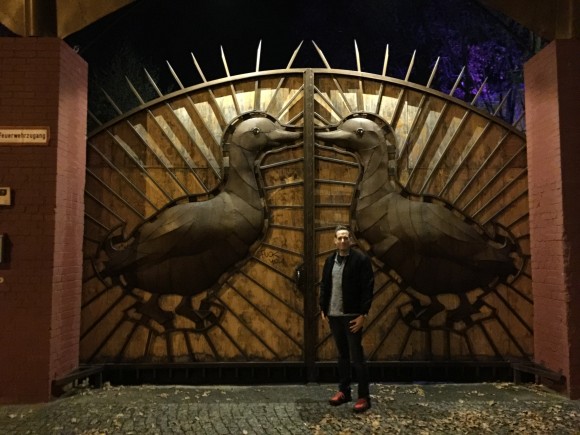 When going to Berlin's trendy dance clubs that it is famous for, its best to not wear fancy clothes or shoes. Before going out I read complaints online of people being rejected at clubs just for wearing button down shirts. I went to one of those trendy clubs on my first night in Berlin. I was on a train going to a Latin dance club (big surprise) when I met two Norwegian guys, Daniel and Nicolai. We struck up a conversation while they were messing with their iPhone app for train directions and they asked me if I wanted to go with them. Of course I said yes when Daniel told me that the club they were going to, named Sysiphus, was an old gutted out old high school in the middle of nowhere East Berlin.
After getting off the train we walked a half a mile down a residential street until we saw a huge strange gate with large scary ducks illustrated on it. We arrived at the entrance around 1:00 a.m., a relatively early time for a club such as this on a Friday night. At clubs like Sisyphus many people arrive on Friday night and literally stay there partying all weekend, not leaving until Sunday morning. The bouncers made us put stickers on our phones' camera lenses so we couldn't take photos inside the club. The club had lots of eccentric decorations inside that would have made for some awesome photos. I guess they figured the mood would be spoiled if everyone was breaking out their cameras to record the decor, and I also think the camera ban added to the place's mystique.
In a huge dark room in the old high school building a few thousand people, intoxicated in a myriad of ways, swayed to house music spun by a DJ with spiked bleached hair, 5 to 10 piercings throughout his face, and a black sleeveless t-shirt—that's what I remember at least, as I had no camera. Outside the high school was a large outside space perfect for milling around, meeting people and chilling out. I sat with my new Norwegian friends who were drinking and smoking on old ratty couches scattered about the common outside area. Sometimes we sat in a half destroyed cab of an old semi truck, also outfitted with old couches, as we tried to avoid getting wet by the light rain and ate surprisingly tasty vegetarian pizza and pumpkin soup.
While we chilled out, soaking in the precious ambiance, my drunk Norwegian companions, one of whom was half Jewish, jokingly pondered what would happen if out of the blue one of us yelled "Hitler!" We were in a place filled predominantly with inebriated ravers in their early 20s. Would they be offended by such a gesture?
One of the many strangers we struck up a conversation with at the club was a short German guy in his early 20s, who later informed us that he also had a Jewish father. We posed the question to him about what would happen if we yelled out "Hitler." He laughed a bit anxiously and said that "Hitler" was the equivalent of the "N" word in Germany. You stay away from it, unless you want big trouble. What sort of trouble would ensue, we had no idea, but it was clear that the joke would not be well received.
An American Jew, a German with a Jewish father, A Norwegian with a Jewish Mother, and a Christian Norwegian huddled together at a trendy alternative dance club at 2:00 a.m. discussing what would happen if we yelled "Hitler." That's what I saw in Berlin, Dad.
******
By Lloyd Graff
Monday, November 9, was the 77th anniversary of Kristallnacht, the day that the Nazi extermination of Jews began in earnest in Germany. The irony of my son Noah cavorting in Berlin on the anniversary of that day that so many people I have known recall with abject horror, was not lost on me.
When Noah told me he wanted to add on a couple days to his business trip to Europe to go to Berlin, I gasped silently to myself, "Of all places to go…" I thought of Adolph Hitler, goose stepping soldiers in parade uniforms, the burning synagogues and broken glass. Why Berlin? Any place but Berlin, the Führer's capital.
Noah is half my age. World War II and the Holocaust are "Schindler's List" to him. I was born during that war. His grandparents suffered during that war. I have several friends whose families were gassed in German concentration camps and Noah wanted to party in Berlin on Kristallnacht.
It wasn't that I resented him having fun over the weekend, but the images from Leni Riefenstahl's propaganda masterpieces made for the Third Reich and her Patron, Adolph Hilter, are the images I will carry in my bones, forever.
I did not begrudge Noah joyfully taking a bike tour of the beautiful city where Jesse Owens showed up Hitler for America during the 1936 Olympics.
The world has changed a lot since 1936. But the horror wrought by Hitler's Germany endures for me.
Am I happy Noah had a ball in Berlin a few days ago on the eve of Kristallnacht?
Not really.
Question: What do you think of when Germany is mentioned?