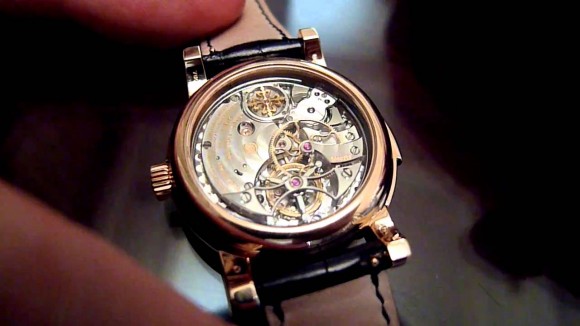 Patek Philippe makes very expensive time pieces, mainly watches. It is a Swiss manufacturer of beautiful pieces of mechanical jewelry that start at $10,000 per instrument and escalate from there. The company has a loyal following in America and a thriving business. What they do not have is enough watch repair people.
There are interesting similarities with the machine tool world which sells beautiful, complicated expensive things that occasionally break down.
Patek Philippe is making a determined effort to solve their repair problem. They are training their own talent. They advertised widely looking for candidates to learn the watch repair trade over a two year training period and apprenticeship in New York City. They did not try to make it sound sexy. It was going to be demanding work, requiring a meticulous nature and perseverance. The pay would eventually be good, but no bonanza. They got 200 applicants and ultimately chose just six to start the course. They came from all walks of life, different ethnic groups and a wide range of ages. Both the company and the students are making a major investment in their futures. It is the kind of long term thinking that should serve them well. The machine tool builders should follow Patek Philippe's model.
*******
Hudson City is a New Jersey based bank that has been quite successful in the mortgage funding business over many years, but now they are in hot water with the regulators for granting hardly any of those home loans to African Americans and Latinos. They have to pay a $33 million dollar fine or deal with almost endless litigation which would hinder a lucrative merger which is now pending with M&T Bank.
When I read this story about Hudson I immediately thought of two attractive 2500 square foot homes directly across the street from my home. They have been mainly vacant for seven years. They have had occasional renters, one had a squatter who left in the middle of the night, but no permanent owner or resident during that period.
The suburb my wife and I have lived in for 36 years is well maintained, nicely policed, filled with lovely parks and amenities. Its residents are probably 60% African American and 40% white. But who notices. The schools however, have almost all African American kids.
When I read about Hudson it made me angry and yet my business side said "I get it." The simple way out for a financial institution is to situate its branches in rich areas, mostly white, that are deemed "safe" to lend. If you get in trouble with the regulators, quietly pay your fines, move on, and merge.
Racism lives on in the financial system. Banks play it safe and pay the officers well. And the lovely vacant homes on my street stay empty – year after year.
*******
The World Series ended Sunday with a fascinating drama playing out in the New York Mets' dugout.
Matt Harvey, New York's starter in the fifth game, had pitched a shutout going into the 9th inning. The Mets led 2-0 after 8, with Harvey pitching a flawless 7th and 8th. Harvey is a tough guy with a big ego who sat out last year after Tommy John ligament surgery. He had thrown 110 pitches and the Mets ace closer Jeurys Familia was ready to get the last three outs.
Harvey went to his manager, Terry Collins, after the 8th and virtually demanded that he be allowed to finish the game. Collins acquiesced to Harvey and let him take the ball for the 9th. Harvey walked Lorenzo Cain, the lead-off man. And then Collins almost inexplicably allowed Harvey to pitch to Eric Hosmer, a tough left-handed hitter who had tormented the Mets through the entire series.
Hosmer hit a ringing double to left. Kansas City tied the game and put the Mets out of their misery in the 12th inning.
Terry Collins will forever be second guessed for his 9th inning decision with Matt Harvey. His choices were tough. Do you listen to your ace pitcher who totally believes in himself, or do you trust the numbers that tell you that the brilliant relief pitcher with bat breaking stuff will get you the win?
Familia had not been perfect against KC in the series, but he was fresh and had a different look for the Royals hitters.
I feel for Collins. He went with his heart and lost the bet.
Fabulous drama. The kind of decision that makes baseball still my favorite sport after all these years.
Question: Would you have left Matt Harvey in to pitch the 9th inning of Game 5 of the World Series?