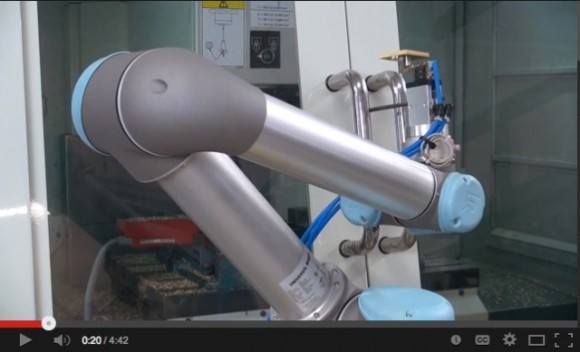 I normally do not write about products or technical stuff because, frankly, squirting mustard on a hot dog is a big mechanical challenge for me.
But I am excited enough about a new product today to write a piece about it, because it is on the verge of significantly changing my neighborhood — the machining world.
A little robot made by a small Danish company, Universal Robot, is showing this week at FabTech in Chicago. Their product, the UR5, is cheap, versatile and easy to program. I probably couldn't do it, but I am pretty sure you can. It is a $30,000 weapon of mass production destruction. It can be put to work the same day you take it out of the box. It seems like a product that almost any job shop could use. By simply modeling the task you want the robot to accomplish, you get most of the way home on the setup. Also, in most cases you don't need to add extra guarding which enhances its quick changeover. You can team it with a machining center, then stick it on a Citizen, schlep it over to a tube bender and let it finish its week on a Cincinnati Centerless. The simplicity of usage of this mini-robot is its value proposition. This exquisite little machine is the 3,000 square-foot job shop's China killer.
It enables a tiny firm to compete with Johnson and Johnson on making titanium kneecaps. This machine turns a machine tender into a programmer and director. Potentially, a company can get a 6 month return on investment, putting it in almost any firm's reach.
The fancy, rugged expensive robots from behemoths like Fanuc, ABB, and Kuka have their place at Ford or a foundry, but the job shop robot has finally arrived.
It means fewer people and less headaches. Unless you are one of those fewer people who is now going to have a major headache.
Question: Are you afraid or excited about robots?
Check out the video made about a shop in Southern California using the UR5.