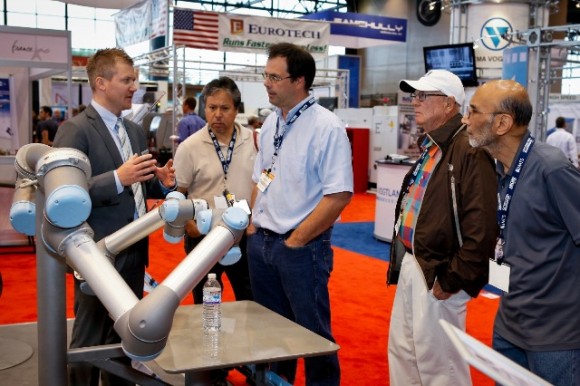 One of the definitive currents I see in the economy of the 2010s is the democratization of technology.
Computers and devices cost a tiny fraction of what they did just a few years ago, and the learning curve to operate them has eased dramatically.
For a few hundred bucks a person can buy an HD video camera, edit video on a consumer computer and then broadcast what they've shot to the world online for free. People can create Web sites with free open source software like WordPress that they can learn to operate in a few days. A person can buy a Haas MINIMILL for $35,000 and make parts in his garage.
Universal Robots has continued this democratization of technology with its robotic arms, which sell for between $34,000 to $44,000. For the price of a luxury car, a small machine shop can automate its operation, saving on labor costs by automating applications such as pick and place processes. Also, the simplicity of the robots decreases the need for skilled labor because the robotic arms made by Universal Robots are simple enough that a technically savvy person can learn to program and operate one in a half hour. The company's robotic arms also create virtual barriers around them for safety if people move too close, a tremendous advancement from traditional robots that require large expensive physical barriers to surround them. It's not Cyberdyne Systems Model 101 (your favorite cyborg Governor with an Austrian accent), but it can still be a terminator of people — in a machine shop.
At IMTS 2014, I visited the Universal Robots booth and interviewed the company's CEO, Enrico Krog Iverson. I also talked to Empire Robotics' President, Bill Cully, whose company was sharing the Universal Robots booth. Iverson told me the story of how Universal Robots started. The company was founded in Denmark in 2005. Engineer Kristian Kassow was working on food industry applications for robots — one of the tasks being to place pepperoni on pizza. He combined forces with Esben Østergaard and Kasper Støy, who were working on a PhD project about the market for robots. Their goal was to change the definition of a robot from a heavy, expensive, and unwieldy technology that could only be utilized by small group of people, to a simpler, lighter, cheaper technology that many people could afford and operate.
Empire Robotics' product, the Versaball, which it calls an "agile robot gripper," has further enhanced the practicality of the robot arms from Universal Robots and those of other robot brands as well. The Versaball, which sells for just a few thousand dollars, has the ability to pick up objects of diverse shapes and materials. Empire Robotics' team demonstrated how the Versaball, right out of the box, can work together with the robot arms of Universal Robots. It has several sets of holes on its mounting component that make it ready to fit physically onto a variety of robot arm models, more importantly, the Versaball's computer easily integrates with the computer control of the robot to which it attaches. The Empire Robotics team raved about the robot arm from Universal Robots, saying that the person at the booth operating the robot learned to program it in a day, and he had never programmed any Robots before.
Question: Do you feel bad when human workers are replaced by robots?
Demonstration of Robotic Arm from Universal Robots Integrated with Versaball of Empire Robotics (IMTS 2014)