The sound that a 20 ton traveling crane makes as it stolidly rolls north to south, south to north, on its electrified path, is very much like that of a lumbering freight train.  I heard it all yesterday, backing and forthing, carrying its 700 pound containers of old dinosaur bones closer to their new home, 400 miles to the east.
Of course, they aren't complete tyrannosaurus skeletons being transported.  They are a pile of Acmesaurus bones, the steel innards of 40-year-old multi-spindle screw machines unearthed from cabinets and shelves after being virtually buried for decades.
I made my peace with selling the remains of machines that had been our meat and potatoes for so long.  Back in the last century of the last millennium, National Acme screw machines were king.  They were frothing giants like Tyrannosaurus Rex, and they ruled the turning industry, but today we are just shipping some heavy numbered bones, being sold for parts to repair or complete somebody's fractured Acmesaurus.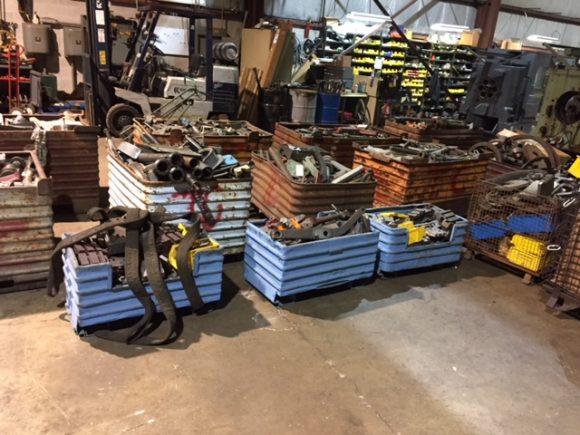 I was shocked we had so many unmatched bones left.  They had occupied the shelves so long I no longer really took note of them, sort of like books you forget you own, squatting on cheap space on your shelves.
Eighteen months ago I made a promise to my wife Risa and to myself that I would get out of the dinosaur business one way or another. I was in the midst of suffering through a second straight miserable year in the used screw machine business and knew I had to make major changes or my bank would make them for me.
For 40 years, the business was generally a fun game that I played, but after 2008, it wasn't nearly as much fun. Multi-spindle automatics were being seen by more and more of my traditional customers as unproductive, clumsy dust catchers—not core equipment to invest in.
In retrospect, one reason I kept investing in Acmes so long was because I was trying to prove to myself that my choices were correct and my brother Jim was wrong in wanting to change the business focus of Graff-Pinkert away from Acmesaureses.  But Jim was shrewder than I was in recognizing the long-term trends in the machinery business.  Acmes were dinosaurs; rebuilding multis was a really hard business to make a living in; and expensive real estate, high wages and big health care costs were eating the profits in the dinosaur resale game.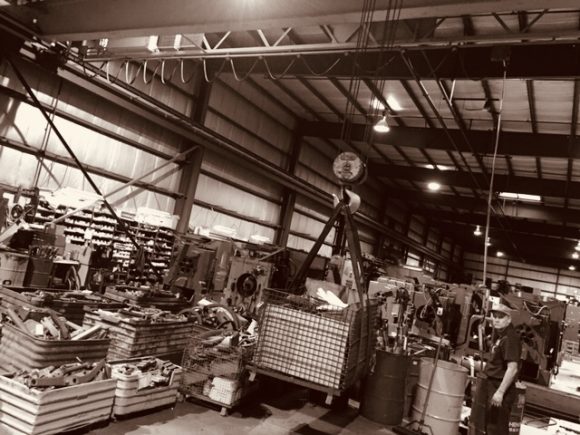 The people who bought our Acmesaurus parts knew what they were buying and they paid accordingly. Forty thousand pounds of National Acme parts and pieces went for $13,000, plus $4,000 for a skeleton of a 1-¼  RB8 Acme. The buyers have cheap real estate, productive and not overly expensive employees, low utility costs and a good reputation in the business.  They also acknowledge it's a hard game.  A lot of stuff they bought from us will never be used, but for 13 grand, they don't have to worry about it.
I feel lighter getting out of 40,000 pounds of idle iron but I'm a little nostalgic as I hear the rumble of the crane shifting the tonnage to a new owner.  We are still in the multi-spindle refurbishing business, selling primarily Wickmans.  But refurbishing machines is now less than half of Graff-Pinkert's volume. In a good month, refurbishing pays three quarters of the bills of the total business, which is okay because it builds our brand, augments our spare parts operation and provides a base of talent and knowledge that nourishes the rest of our business.
I know a lot of folks in the machine tool business who love the iron.  I don't.  Those bones rumbling down the craneways are just dead iron to me.  What I love is the creative challenge of matching buyers and sellers, of turning dross to gold—occasionally hitting the jackpot, of connecting the dots that nobody else even saw, and feeling the combustion of ideas with Noah and Rex Magagnotti.
Question: Does it make sense to invest a lot of money to upgrade an old Acme?