I am still woozy from the awesome Cubs victory in game five of the World Series. I watched the game on TV at home, but our whole family met at a pizza place about 15 minutes from Wrigley Field for a pre-game meal. Amazingly, my daughter Sarah, a rabbi in California, and her husband Scott got great seats, thanks to the generosity of one of her congregants, who had connections with Todd Rickets, an owner of the Cubs. Last Thursday, Sarah got an email from her wealthy congregant out of the blue, offering her two seats in Chicago for the World Series, all expenses paid. He had heard her sermons connecting the Cubs and important thoughts on how to live a good life, and wanted to say thank you – a true random act of kindness, for sure. Sarah and Scott accepted graciously, got a sitter for the kids, and headed to Chicago for the Sunday game.
It was a "Ferris Bueller's Day Off" type of fantasy day for Scott and Sarah. Coincidentally, Scott had attended Glenbrook North high school, the Chicago suburban high school that Ferris Bueller's high school was modeled after. Also, Jason Kipnis, Cleveland's second baseman, who has been killing the Cubs the whole series, attended that high school.
The whole family, sans three grandchildren, met at Monti's Restaurant for pizza before the game. Then Noah and his girlfriend drove Sarah and Scott close to Wrigley, right before the streets surrounding the park were blocked off. Sarah and Scott brought several signs with them, which they displayed frequently at the game. They said they were literally standing with all of Wrigley the whole game, abstaining from getting up even once for food or to go to the bathroom. They were interviewed by mlb.com after the game (click video below). They stayed at Noah's condo in the city and flew home early Monday in time to pick up their girls from school. Amazing day.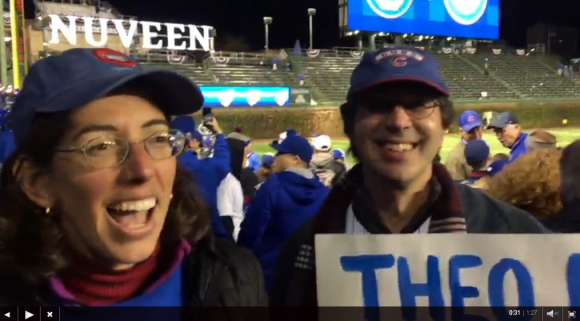 ******
The Presidential election goes down in a week. What usually happens appears to be happening – it's getting considerably closer. Donald Trump could still surprise everybody and win, but I don't think so. The path for Trump is extremely narrow with New York, California and Illinois virtually certain to go big for Hillary Clinton. If Latinos and African Americans go 90% for Hillary and women go 65% for her, it seems very unlikely Trump can sneak in.
But consider this possible scenario, reminiscent of Richard Nixon and Bill Clinton. Scandal, emanating from the pay-to-play cynicism of the Clintons, bubbles up to overwhelm a Hillary Presidency and she is forced to resign, a la Nixon.
Tim Kaine, who impresses me as a real lightweight, is sworn in as President. Maybe he is more than what he seems, like Gerald Ford was, but more likely he is as weighty as a paper airplane. More gridlock, more angst and anger. A nice setup for Ted Cruz in 2020.
******
Amazon is building, or has already built, four gigantic (850,000 to 1 million square foot) warehouses south of Chicago. They call them fulfillment centers, which may not accurately describe the gritty work involved, but they provide decent jobs for people who have been looking for work with benefits and are willing to give it their all for $13 an hour, 40 hours per week over four days. If people want to work part-time for the next two months they can make $15.50.
We're talking heavy lifting, a lot of standing, walking, dealing with noise with a half hour for lunch. Heaven forbid you come in late. Your pay will be docked one hour for one minute of tardiness.
But Amazon is smart. They lay out the rules ahead of time and they don't promise easy. But if you work your butt off and play by their rules, you will get some health benefits, take home a lot more than driving a school bus at 5:30 a.m., and have a real job. At least until the robots get a little more sophisticated.
This is America, 2016. There are a lot of jobs if you are young, healthy and are willing to work hard. There are jobs all over high tech. Hospitals are always hiring. Nurses can make a hundred grand if they are good. If you can set up a Citizen or Star and don't have a drug habit, I can find you 10 jobs in an hour. But I am glad to see Amazon run its business differently than Wal-Mart. We have a Wal-Mart across the street from our plant. I hate going into the store because the people who work there seem so listless and indifferent.
Amazon still has its energy and passion. They know how to hire and motivate new workers for $13 an hour. That isn't easy.
Questions: Are you caring less about professional football this year?
Will the next president be impeached?