Take a flyer with me today. This is a blog about change, race, real estate values and the chance to make a fortune if my left field projections are actually correct.
Amazon will make its decision shortly about where to build its new headquarters. It's original home office will remain in Seattle, but its second home will be built somewhere else in America. Chicago is one of the finalists.
Consider the other likely candidates such as Boston, Dallas, Atlanta, Washington DC and Chicago. Chicago is only a 4-5 hour plane ride from Seattle, making it a strong candidate. Chicago has another big advantage. It's offering Amazon a huge clean site that the city acquired following the financial collapse 20 years ago, the former Michael Reese Hospital. The site can be expanded to 100 acres. The beauty of it—is the beauty of it. It is adjacent to Lake Michigan near McCormick Place, I-55 and outer Lakeshore Drive. It is located on several rail arteries and accessible to downtown on lakefront bike paths. It is within biking distance of the University of Chicago, Northwestern's Downtown campus, University of Illinois Chicago (UIC) and Illinois Institute of Technology. Loyola and DePaul Universities are easily accessible too.
The Amazon Headquarters would mean eventually 14 million square feet of buildings plus the amenities and service businesses that go with it. A conservative estimate is 50,000 jobs will be spawned.
Amazon choosing the Michael Reese site would be a fascinating scenario because of the primarily African-American population that borders it on the south side of the city. Would the most valuable company in the world, Amazon, locate its $50 billion gem in a Black area of Chicago? I think so, because 100 acres flat against the beautiful lakefront land in Chicago trumps other considerations. Amazon will build its own neighborhood.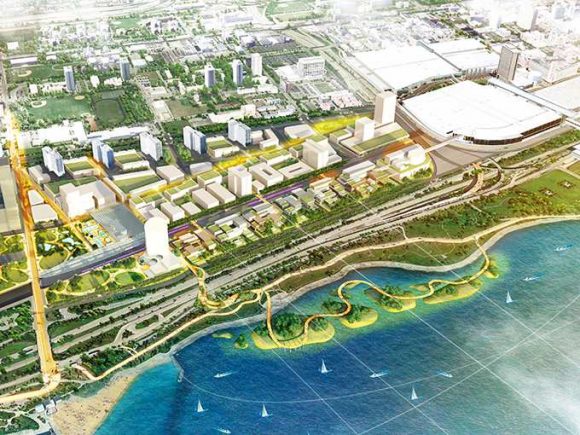 America has changed enormously since I grew up a few miles south of the Michael Reese site. (Incidentally, I was born at Michael Reese Hospital.)
The racism that infected my childhood and colored the way I have looked at the world ever since is much different today. Barack Obama was President for eight years and his library will be built 15 minutes south of the Michael Reese site. I live in a southern Chicago suburb that's more black than white. The Starbucks where I'm writing this blog has a 50-60% African American customer base.
Most of the Jewish people who once filled the four synagogues in the area I live in have died or moved away. Yet I am very confident that a new wave of Jews and other white people, even with children, will soon be moving back into my area, which is a 25-minute commute to the 100-acre Michael Reese site. This is going to happen even in the unlikely event Amazon does not opt for Michael Reese.
Apple will be building its own 50,000 employee second headquarters in a few years. One of the key factors a company like Amazon or Apple considers when building a new site is the availability of affordable housing in an urban area. Chicago ranks high in the nation on accessible affordable housing for potential younger employees.
Chicago's Southside and the South Suburbs have available housing, lots of land, plenty of water, excellent transportation and infrastructure, and a desire to take advantage of it.
My old friends whose children have all left the area laugh at me when I outline my Amazon scenario, but the house flippers and real estate speculators are not laughing. They are buying right now. Better to be a little early than too late.
I make my living by identifying undervalued assets. Rarely have I seen an opportunity with such a big upside as the spin off housing of the Michael Reese development.
Question: Is racial makeup one of the first things you consider when buying property in a new neighborhood?