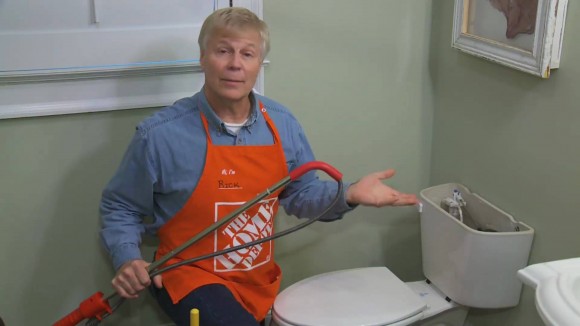 Yesterday, I received a one hour crash course from a client deep in the plumbing business on what it takes to be successful making faucets and bathroom components in America.
He works for a company that sells to big box retailers. They have made their stuff in China, but five years ago, they took on the challenge of showing the CEO and accountants of a publicly traded company that they were not only relevant, but could make good brass components in America for less money and with way less aggravation than using subsidiaries in Shanghai. In four years they reduced their hourly burden rate by one third. The employees who made the cut are making more money through production bonuses, and the shop's old National Acmes are cranking out perfect parts on time to satisfy the numbers people at Home Depot who require a 98% inventory fill rate or they charge the companies penalties.
By reorganizing the shop floor into product cells they were able to change the standard of one operator running two machines to an average of three machines. They hooked up sophisticated monitoring equipment with predictive software that told the operators (and management) how many holes each drill made in real time, so they could change drills before they broke or made inferior parts. This dramatically increased productivity by eliminating most of the tooling wipeout that can kill a setup. The drills and taps now come out of a "vending machine" on the shop floor, not from an inefficient tooling czar, thus saving a lot of space and kibitzing time.
The tooling sales people became allies in the project, with Iscar, Kennametal and Allied reps visiting the plant every week to share best practices. They also started buying tooling from MSC, which is phenomenally efficient in getting tooling to a client quickly.
The company bought a new Fanuc wire EDM to augment their old Agie machine and improved output by 70%. It was a fast payback on a $150,000 investment, so now they are making all of their form tools in-house.
They have become great experimenters in the arcane world of coating. They love the mad scientists at Balzers who keep coming up with slightly different variations for their drills. This willingness to continually tinker with processes enables them to keep shaving costs.
The virtually complete changeover to lead-free brass in the water cooling industry has been a boon to them. Rather than complaining about lead-free, they embraced the change and figured out how to make the cranky material an ally while competitors fight with lead-free brass.
Brass prices have dropped by a dollar a pound over the last 18 months. The retailers are certainly aware of the raw material changes, but prices have held fairly solidly, which is one reason the company is prospering.
The firm does not make everything in house. They have two trusted outside suppliers who are highly skilled on lead-free brass and they have found it useful to job out about 10% of their work to reduce overtime costs and simplify their in-house operation. The outside sourcing is a safety valve and insurance against unforeseen disruptions. Price per piece is slightly higher, but it is deemed to be well worth it.
I had heard about American companies beating foreign competition, but it had never been clear to me how management in the ancient art of screw machining in the high wage market of the United States had managed the task. Wage cuts really have nothing to do with it. It's all about the organization, tooling technology and the COMMITMENT.
Question:  Is manufacturing prospering in the United States?