I had the privilege to listen to a series of interviews with Paul Simon by Malcolm Gladwell over the past week, in an audio book called Miracle and Wonder. I found it absolutely riveting, Paul Simon talking about the early days of Simon & Garfunkel and then giving us great insights into the development and fruition of his brilliant musical career.
Simon is 80 years old now. His voice has lost a little of the energy of his youth, but his mind is sharp, his memory remarkable, and his ability to inform us through Malcolm Gladwell's well-researched questions is magnetic. And he still makes great music.
Paul Simon grew up immersed in music. His father, Lou, was a well-schooled musician who cherished classical pieces and played bass in local jazz clubs in New York City at night. It was clear from the hours of interviews Gladwell shared that Paul and his father were close. Paul's present on his thirteenth birthday (he did not call it a Bar Mitzvah present) was a guitar. By this time he was already singing on street corners with Art Garfunkel, who lived near Simon in the borough of Queens in New York. At the age of 13, recording under the name of Tom and Jerry, Paul Simon and Art Garfunkel already had a hit record.
What I found remarkable was that Paul wrote both the melody and lyrics for all of his work. He has been a storyteller and composer for almost seven decades. The partnership with Art Garfunkel ended while they were both in their 30s and had already made hit after hit albums. Art apparently left the music rat race, but Paul was possessed by his creative muse and continues to work on his musical stories to this day.
He began work on his latest album, Seven Psalms, on the 25th anniversary of his father's death in 2020. 
Gladwell teased out the history of Simon's biggest hits like Bridge Over Troubled Water. The name of the song was derived from a line in a gospel song recorded by Claude Jeter in 1958. He went to New Orleans to talk to Jeter and eventually recorded it at the old studio that Jeter had used in Muscle Shoals, Alabama. 
Art Garfunkel sang the song almost solo in their last album together before they broke up. Supposedly, Paul Simon was jealous of the fame Garfunkel received from the song because it was his creation, even though he had insisted that Art sing it because he could give it the "white choirboy treatment." Simon was the genius who wrote the song, directed all of its versions in various studios, selected the musicians, collaborated on the final sound editing, and sang harmony with Art in the final verse, but it was Art who got the applause and foot stomping at the end of concerts. Simon felt creative envy because he felt it was "his song."
Gladwell's interviews do not focus on Simon's personal life, his marriages, or his home life growing up in Queens. Simon talks about his music, his creations, and the many influences that shaped them.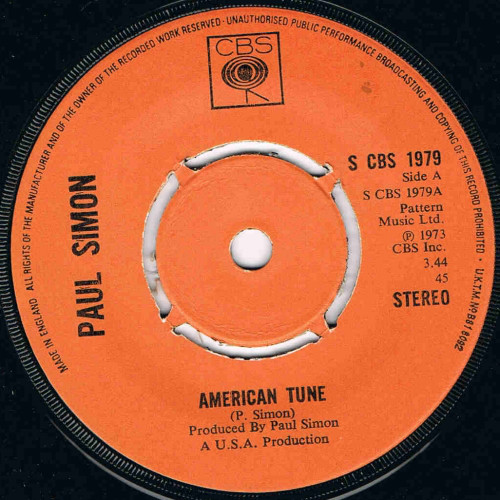 While I was curious about his life, I hungered to get a feel for his creative compulsion and desire to tell his stories with a combination of anger tempered by tenderness. The Boxer was partly inspired by the Bible but was written at a time when he felt he was being unfairly criticized. What I found fascinating was that the part of the song everyone remembers, the plaintive refrain, "lie la lie," was inserted because Paul couldn't think of a lyric that fit. The power of serendipity rises up in the song that he considers one of his best, as a filler when he thought his muse had deserted him.
I was moved almost to tears by these interviews because even though I don't know that much about music, I could relate strongly to my own telling of stories coming from the many strands in my life. I've always wanted to write, but the material that I longed to weave together came from family traditions, sports, putting together deals, raising a family, and living a marriage. 
I wanted to clap when Simon and Gladwell ended with the music of American Tune, the song written by a child of Hungarian immigrants, which is about the promise of the melting pot of America and it falling short of its promise. Simon wrote it at the height of the Vietnam War. It was a time that left its mark on me. It made me think of a high school friend of mine who had died in an F-15 fighter in the skies above Laos.
Question: What is your favorite Paul Simon song?