By the end of the phone conversation, we were both in tears. My daughter, Sarah, and I were lamenting the collapse of the Chicago Cubs again this year, right after they had blown their fifth game in a row in the last inning. It wasn't the pain of the loss that caused the tears 2,000 miles apart during our cell phone hug. It was the raw emotion of the moment shared that epitomized thousands of moments of exultation and despair over a team that we both love.
This is the time of year Sarah and I talk sermons and baseball. She is a rabbi in the Bay Area, and her congregants know that somehow she will make a Cubs reference in her most listened to sermon of the year on Yom Kippur. For me, it is a treasured opportunity to reconnect with my first-born child, who I love deeply and respect so much.
How many of those ineffable shared moments do you get in a lifetime, when you both realize that there is just a finite number of those precious times left and you'd better grab and squeeze it like it's a long fly ball that you have to leap for at the ivy in Wrigley Field and hold on to as you hit the bricks?
Sarah doesn't know every batting average or the meaning of all of Javy Baez's tattoos, or the kinds of cancers Jon Lester and Anthony Rizzo beat early in their Major League careers, like I do. But she has the love, the passion, and the hurting of a true fan.
Sarah's husband, Scott, who I often text with during games, shares the whole Cubs thing with me, too. When Scott got back home last Sunday after attending a high school reunion in the suburbs of Chicago over the weekend, one of the first things he did was call me to commiserate over the implosion of our beloved Cubs to the hated Cardinals.
I love Scott as a person, as a husband for Sarah, and a wonderful father,  but as lifelong bleeding Cubbie blue fans, we have something very special that few in-laws have—that sharing of moments, the jumping for joy feeling that makes up for those terrible emotions of watching a walk-off homer for the opposition in the ninth inning.
When I read the morning sports page, I often wonder why I spend so much time on the Cubs. Why do I still feel like Ernie Banks is my first cousin? Why do I still think of the Chicago Cubs when I bring up the memory of my mother, Thais Graff?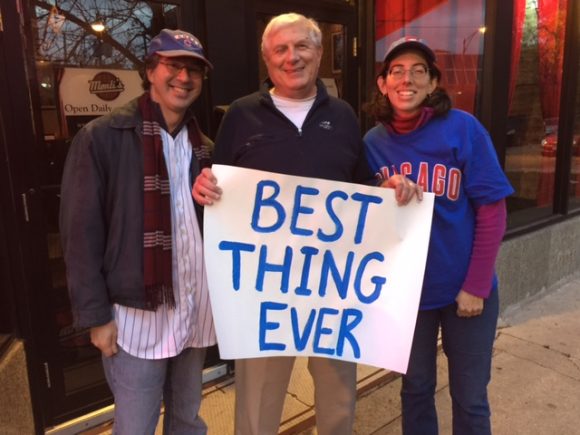 It's the moments. It's the moments that turn memory into feeling tears. You don't know when they will come, but when you experience them, picture them, place them in the frame of your life, they bring a special joy that punctuates the everyday hurly burly.
This season has been a disappointment for me and the Cubs. It has been a long, often sad journey, but it has given me so many marvelous moments to share with Sarah and Scott and my wife, Risa, who has become a fan in her 60s, and Noah, and my granddaughters.
When I experience one of those shared moments, when I feel welling tears of shared emotion that don't require any words, I feel so grateful to have my Cubs.
Question: Do you bond with your family over sports?