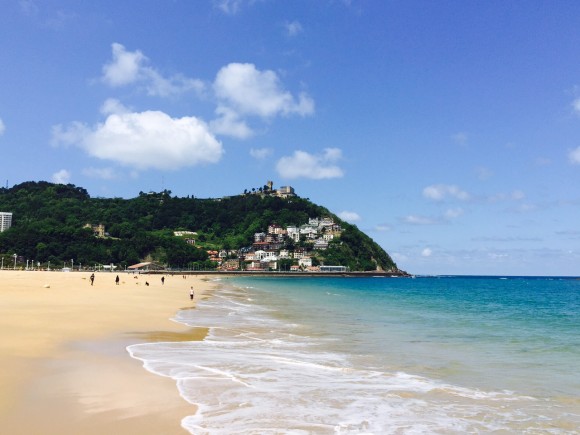 In May I had the wonderful opportunity to go on vacation in a small paradise in northern Spain called San Sebastián (Dononstia in Basque).
When I asked folks from San Sebastián how they felt about their home city they simply beamed. They boasted that the city is the gastronomic capital of the world, it has the most beautiful scenery in the world, has a solid economy, and that its Basque language has no other languages it can trace itself back to, making it the oldest language in all Europe.
I'm happy to say the bragging of the San Sebastiáns didn't come across to me as snobby, which it very well could have. Instead their pride felt authentic and uplifting, and it was hard to disagree with their sentiments.
San Sebastián is located in Basque Country on the southern coast of the Bay of Biscay, 12 miles from the French border. Despite its small size of 23.51 square miles, and modest population (186,409 in 2011), it is considered a food mecca, filled with bars serving traditional yet creative small snacks often comprised of seafood called pintxos and succulent rare beef ribs (chuletas). San Sebastián's area also boasts the second highest per capita of Michelin star restaurants in the world, second only to Kyoto Japan. The city's views of the coast were so breathtaking that I took hundreds of scenery photos, many of which are similar and repetitive, but I was so struck by the beauty that I just had to keep taking one after another.
One thing that strikes me when I travel to Spain is the pride Spanish people have in their heritage. But the pride they exude generally isn't pride in being Spanish, it is pride for the region or specific city they come from. Contrary to what one might first think, Spain as we know it is actually a young country with its first constitution in 1812. The country is comprised of 17 autonomous communities, two autonomous cities and has six recognized regional languages. The divisions among regions remain clear today. For example, children in the Basque region have to study the Basque language in school, while those in Catalonian cities such as Barcelona learn Catalan. Both the Basques and Catalonians have had significant separatist movements for decades, sometimes even resorting to terrorism.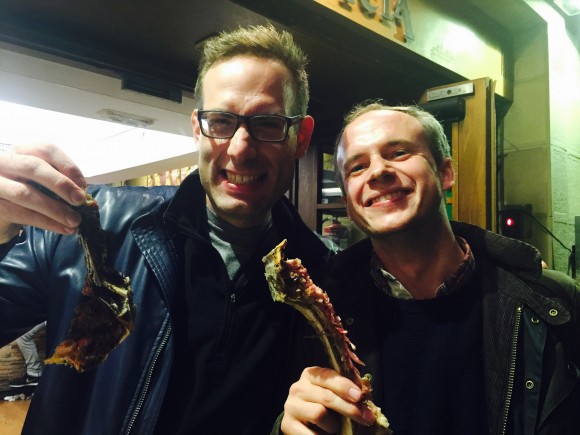 In San Sebastián, street and building signs are all written in Basque alongside Spanish. The best soccer players growing up in San Sebastián only want to play for their home city's team, forgoing the vast salaries and fame they might find playing for a large market Spanish team like Real Madrid or playing in other countries. In fact, I was told by my hotel's desk clerk that if a player from San Sebastián went to play for another Spanish city people might spit at him walking down the street. I asked him if a city in another part of Spain was attacked by a foreign country if he would he feel as though he had been attacked personally, and he said no. I'm sure not everyone in San Sebastián would feel that way but it was powerful to hear him say it.
A friend I made in San Sebastián told me that he admired how at every sporting event in the United States we sing our national anthem. The ritual had never really struck me as a custom distinct to the United States before then. As much as I loved visiting San Sebastián and as much as I admire the passion its people have for their home city, the disunity I felt in Spain gives me an extra appreciation for the United States. I feel fortunate to live in a nation where I can travel everywhere and not feel like a foreigner, be it to New York, Indiana or Mississippi.
God bless America, where states haven't tried to secede for over 150 years, where I can go to a Chicago Cubs game and sit next to a Cardinal fan peacefully, and where Lebron James can leave his hometown to follow money, prestige and weather, and then return as a hero.
Question: Do you always want to live where you're living now?
Question 2: Would you like to be a settler on Mars?