Today's podcast is an American Dream story. Our guest is Dulio Arellano, owner of Premier Swiss, a Tornos shop in Addison, Illinois, which he founded in 2017. Dulio came to the United States from Mexico when he was 18 years old.
After working in various machine shops, Dulio got a job as a technician at Tornos USA. At Tornos, Dulio developed skills and relationships that gave him the foundation to start his own business at the age of 34.
Scroll Down to Listen to the Podcast
Main Points of the Interview:
(3:20) Dulio discusses his company, Premier Swiss, a job shop with three Tornos Swiss lathes, a DECO10, DECO13, and DECO20.
(4:25) Dulio talks about immigrating to the United States from Mexico when he was 18 years old in 2001. His father had already been in the United States for years, but the immigration process took a long time. 
(6:00) Starting at age 20, Dulio worked for eight years at a company that makes pressure pipes. While working there, his older brother repeatedly told him that he should look into a career in CNC machining. It took his brother independently enrolling Dulio in a CNC machining class to get him to try it.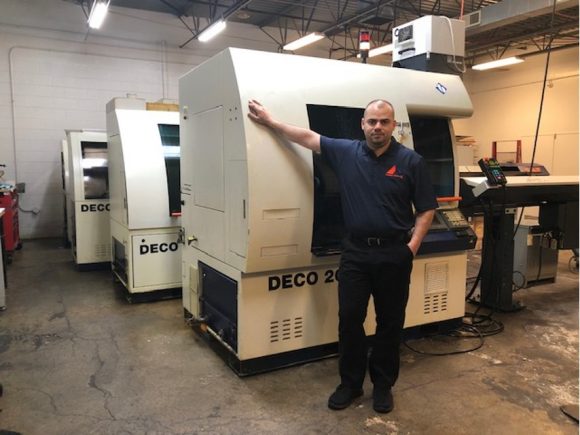 (9:30) After working in CNC machine shops for several years, Dulio landed a job as a technician at Tornos. While at Tornos he learned about the latest Tornos equipment. Just as importantly, he also made a lot of close contacts in the Swiss business.
(10:10) After four years working at Tornos, Dulio knew that he wanted to eventually go into business for himself. One day he went to a customer to give a training class. The customer told him that he had a used DECO10 for sale and asked him if he knew someone who would be interested in buying it. Dulio bought the machine at a bargain price in the low $20,000s.
(14:10) Dulio's first challenge was to find a place to put the machine. He rented a heated 5-car garage on Chicago's westside for $500 per month that he found on Craigslist. The business later moved to St. Charles, IL.
(19:00) While continuing to work at Tornos, Dulio started experimenting making a few parts he hoped to sell online, such as an arrowhead he had seen on eBay that was made in China. 
(21:00) On a Tornos service call to a huge customer, the customer told Dulio he was trying to find some good nozzles for coolant on his machines. Dulio told him he would make some over the weekend on his machine. He returned the next week with some sample parts, but unfortunately the customer had thought he had been joking when Dulio said he would make the parts. The customer had already agreed to buy 2,500 nozzles from a vender. Though he was quite frustrated, Dulio admits it was great learning experience about the importance of being clear in business deals.
(27:40) Not long after the frustrating nozzle incident, another customer called Dulio for help on a machine. After Dulio helped him, the customer complained that he did not have enough capacity for some of his jobs. Dulio told him that he had a DECO10, and the customer gave him the opportunity to make some parts for him. Since then, the customer has given Dulio enough work for him to buy a DECO13 and DECO20 and quit his job working at Tornos.
(32:10) Dulio believes that his business has a bright future going into 2020. He says he believes that America is the land of opportunity.
Question: Is this a good time to start a machining business?
Podcast: Play in new window | Download