I watched one of the greatest tennis matches ever played on Sunday.  I suppose you are thinking, who cares about tennis on the TMW site, but give me a chance on this.
Roger Federer, perhaps the greatest tennis player of all time with 20 Grand Slam titles, dueled Novak Djokovic, perhaps the greatest tennis player of all time with 15 Grand Slam titles (at the time).  It was Wimbledon, in London, England, the biggest tournament of the year, perfect weather, playing on a grass court.  Both players had their parents attending.  Federer's wife and their four kids were in the family box seats, and Djokovic's parents were with his son.
It had all the ingredients of a classic.  These guys have played each other almost fifty times.  They respect each other, but they don't really like each other.  They are lions in the tennis jungle.  The biggest of rivals, these matches are what they live for.  They are wars.  The winners have the most endurance, focus, and luck.
Sunday they played 5 sets and were tied 12 games each in the 5th when a newly installed tiebreaker rule went into effect.  Federer and Djokovic are old men as singles tennis players go.  They are 70 years old between the two men.  Federer has been playing major tournaments for 20 years, Djokovic 15 years.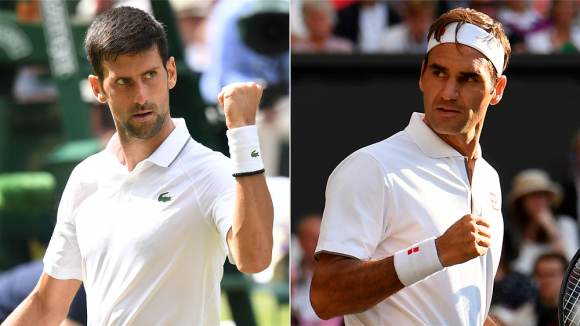 The point is that age is overrated today.  In business, the arts, politics, sports, talent is what counts.  If you can do it, you do it.  If you can't, get out, but don't let "them" tell you when you are finished.
The crowd Sunday was almost entirely for "Rah Jah, Rah Jah," as they indicated by chanting between many of the points.  Novak said after the match that he attempted to hear the crowd chants as "No Vak, No Vak."  He said it worked most of the time.  Djokovic is used to being the hated favorite and has learned how to use it for himself rather than an excuse to lose.  There is a lesson for us all in his toughmindedness in the biggest matches with everybody against him.  He would glance at his family box to see his parents, sometimes holding his young son, cheering avidly for him.
These men are "all in" regarding training, fitness, nutrition, and the mental game.  They know their bodies.   Between matches they use intravenous hyperalimentation to get the extra nutrients to recover from the previous match and be in top shape for the next one.  Sunday, after five hours of the most grueling exertion, they were both hitting 120 mph serves on the lines, playing long rallies, and going to the net and racing back for lobs.  Their concentration was immaculate—and astounding.
A match like Federer-Djokovic is an inspiration.  It says to me that just because other folks are retiring or cutting back it does not mean I have to.  Just because I had a heart attack 11 years ago it doesn't mean I can't be active now, at 74.  It also tells me that if I am serious about business or fitness I have to be committed to it.
Will Roger and Novak eventually be supplanted by great new players?  Yes, but nobody appears to be ready to beat them now.
They aren't going to make it easy, either.
Question: Have you gotten better with age?