It's holiday gift giving time for those of us fortunate enough to be able to do it.
Let me make a suggestion. If you have children or grandchildren young enough to be read to, find a book that you would love to read to them, buy it and then read it to them when they are preparing to go to bed. And read it with GUSTO.
My favorite books these days are by the fabulous American illustrator and writer Mo Willems. The beauty of his works is that they are both extravagantly illustrated in vivid colors and enormously entertaining for both kids and the pseudo adults who read them. They lend themselves to exaggerated dramatic rendering. My older grandchildren know them by heart, but they love to hear me stumble through them as they wait for the punch lines, which I do with over the top zest while they launch into riotous laughter.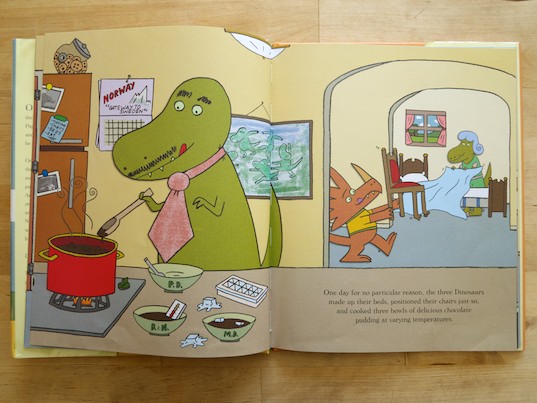 That is the beauty of a great kids book. It can be heard 50 times and it gets better with each telling, if the storyteller gets into it.
This is why a Mo Willems book beats a video game by a mile as a gift. The video game is a one-way present, but a book like Goldilocks and the Three Dinosaurs and Nanette's Baguette are totally interactive fun.
***********
I find it fascinating how "analytics" are changing the sports I have always loved, baseball and basketball.
If you have watched a basketball game lately you will have seen how it has evolved into a game of 3-point attempts and drives to the hoop. The stats tell us that midrange jump shoots are a loser if they comprise more than 50% of the shots put up in game.
If you watch the Golden State Warriors and Houston Rockets you see the trend being played out successfully. Both teams have tremendous 3-point shooters to execute the plan and coaches who gladly embrace the approach.
Boston with Kyrie Irving now has the point guard who can make the strategy work, though his outside shot is not as beautiful as Steph Curry's or James Harden's. The Cleveland Cavaliers with LeBron don't have the perfect personnel to execute this drive and kick out strategy, but they may by the end of the season.
The baseball version of the drive and kick for the 3-pointer is the walk and homer approach. This year you saw more players take walks and change their swings to hit home runs because the analytics told teams it was the way to win.
It is possible the ball was juiced a little bit, but the primary reason that there were so many homers this past season was that the players changed their swings to elevate the ball when they hit it. They also took a lot of pitches trying to tire out the pitchers and look for the right pitch to jack.
Of course, the defense reacted by hunting for ground ball throwing pitchers and 100-mile per hour relievers. The baseball cliché is that it is a "game of adjustments," and in this case that is certainly accurate.
Personally, I miss the turnaround jump shot at the free throw line in basketball and small ball with bunts and stolen bases in baseball. But the beauty of sports is that they constantly evolve. With the Japanese Babe Ruth, Shohei Otani, coming to Major League Baseball in 2018, who can pitch and play outfield to take advantage of his power hitting, we will be seeing a new kind of player. I can't wait. Hopefully he'll be with the Cubs.
Question: What is your favorite children's book?