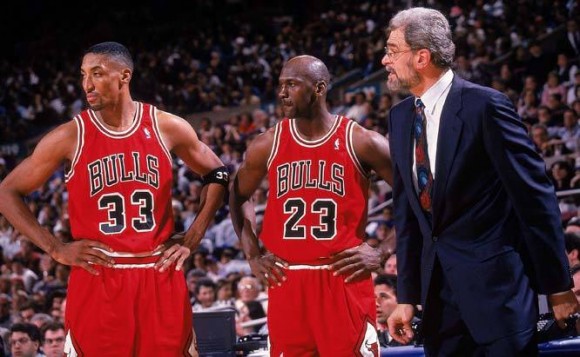 Baseball season is finally almost done, and it's time for the greatest athletes in the world to take the NBA floor. In honor of the upcoming basketball season, I am reviewing former NBA coach Phil Jackson's fascinating biography, Eleven Rings: The Soul of Success.
Many basketball fans know a little bit about Jackson's unconventional techniques for getting his teams to win. Jackson's book fleshes out the methods and philosophy he used while he coached and gives the reader inside baseball, or in this case "inside basketball," into what actually happened while coaching the Bulls and Lakers dynasties and when he was an important bench player on the New York Knicks of the late '60s and early '70s. Jackson was a member of the only two Knick teams to win NBA championships in 1970 and 1973.
The sometimes counter intuitive philosophy Jackson discusses in the book is thought provoking for any type of team leader. The challenges he describes often seem quite relevant to those encountered when running a business.
Jackson believed it was essential to teach his players to think for themselves. When the game was in a pressure situation, he wanted the players to feel confident making their own decisions. It is not uncommon for basketball coaches to have a book with 50 different plays that players have to memorize. The coaches yell the various plays from the sidelines the entire game. The Triangle Offense Jackson is famous for using serves to keep the team constantly moving organically around the floor. The players have a constant set plan of how to space themselves and set up plays they have practiced, but the system also leaves space for superstars like Michael Jordan and Kobe Bryant to create their own shots.
It is common practice for NBA coaches to call timeouts after the opposing team goes on a 6-0 run. Yet, when possible, Jackson liked to let the game go a little bit longer than that before he called a timeout because he wanted the players to learn to figure out how to get out of a jam on their own. Jackson says that many coaches don't want their players to think for themselves because they want the game to go exactly how they've envisioned, but Jackson recognized that no sports play, nor any aspect of life goes exactly according to plan, so the best approach is to come into the game as prepared as possible and then to simply live in the moment.
To prepare his players Jackson emphasized being ready for chaos and the unexpected. He is famous for conducting Bulls practices with the lights off or in total silence. He also liked to have scrimmages in which he would create two lopsided teams and then only call fouls on the better team. This frustrated Michael Jordan, who hated to lose any game, even when he knew it was rigged.
Before the Bulls played their nemesis, the Bad Boy Detroit Pistons, in 1990, Jackson showed the players a montage of clips from The Wizard of Oz. He showed a clip of BJ Armstrong driving to the basket and being clobbered by the Pistons' front line, which he followed with a clip of Dorothy saying, "This isn't Kansas anymore Todo." Another clip showed Joe Dumars beating Jordan off the dribble, followed by a clip of the Tin Man lamenting not having a heart. He showed a clip of Isaiah Thomas driving by John Paxon, Horace Grant and Bill Cartright, followed by the cowardly lion wining about not having courage. The Bulls lost to the Pistons in seven games that year. Sometimes the best mental preparation can't overcome body slams by Bill Laimbeer and side swipes from Dennis Rodman.
The book discusses three concepts of Zen which Jackson, also known as the "Zen Master," tried to incorporate when coaching.
1. Give up control: Give players space to do what they want, even to be mischievous. Watch the players, and never ignore them, and never try to control them. This was a philosophy he used while coaching Dennis Rodman.
2. Trust the moment: Pay attention to what is happening at the present moment. The past is gone and the future is not here.
3. Live with compassion: A concept emphasized by both Buddha and Jesus. Lay down your life for friends, and take care of yourself as well. What you do for yourself, you do for others. What you do for others, you do for yourself.
I believe that Jackson's Zen played a significant role in the six Bulls championships and five Laker championships. Teams with that much talent may have been able to win with different great coaches, but it took a special leader to win 11 times. To deal with 20 different egos the size of Texas and overcome amazing competition year after year requires a unique leader who can create a cohesive team of players with engaged hearts and minds.
Jackson starts his new job this season as team president of the New York Knicks. Will Jackson's Zen principles and Triangle Offense transmitted down from the Knicks' front office bring the first championship to New York since he played on the Knicks' 1973 Championship team? Jackson is not to be underestimated, but my bet is it will take many more years and more patience than it did when he coached the Bulls and the Lakers.
Question:  Who do you think is the best coach of all time? (All sports, professional and amateur)