By Lloyd Graff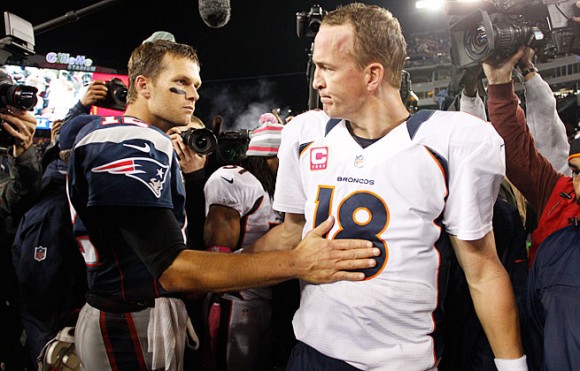 Tom Brady versus Peyton Manning. I can't wait.
This isn't just football, this is American history being written.
Mills and lathes can wait for another day. New England against Denver is just too juicy, too sexy, too loaded with plots and back stories to pass up.
Tom Brady's football career started in the relative obscurity of Junipero Serra High School in San Mateo, California. He was considered a better baseball player than football and was drafted to play professional baseball out of high school, but Brady and his Dad saw it differently. His father took his home videos of son, Tom, packaged them up and sent out 100 copies to college football coaches. The highlight package didn't wow anybody, but the University of Michigan Wolverines were looking for a third string quarterback and thought Brady was perfect. Michigan had Drew Henson, who was going to be All World. No other prospect wanted to go to Michigan and watch the Great One prepare for his NFL stardom. But Brady may have heard Henson wanted to play baseball and he had no other offers so he headed off to Ann Arbor. (Personally, I think Henson knew he wasn't as good at football as everybody told him he was, which may be why he took the Yankees' money).
Brady became the Michigan quarterback as a Junior and took the team to the Rose Bowl. It got him enough attention to be a 6th round draft pick by New England to understudy Drew Bledsoe.
Peyton Manning's early career arc was quite different. Archie Manning, his father, was a Heisman Trophy finalist and played ten years in the NFL. Archie married the Homecoming Queen at Ole Miss. Peyton grew up around the NFL and when Archie went back to New Orleans to raise his three boys he sent them to the elite Isidore Newman School. Peyton's brother, Riley, was an All State receiver and little brother, Eli, has won two Super Bowls. The Mannings are a powerful family in Louisiana. Peyton was recruited by everybody and chose Tennessee after Riley quit Ole Miss football because of a spinal problem. Ironically, Peyton considered going to Michigan.
Manning was the first pick of the 1998 NFL Draft.  Ryan Leaf, a quarterback from Washington State, thought by many to be his equal went to San Diego and was a complete bust.
For the last 13 years Tom Brady and Peyton Manning have set the standard for quarterback play in the National Football League. They are both great leaders and remarkable students of the game. Bill Belichick, New England's Coach, is Brady's partner in developing the game plan. John Fox of Denver just allows Peyton to do his thing and call the plays on the field.
Brady and Manning are such phenomenal passers they can make decent receivers look great, and turn mediocre running backs into stars. Danny Amendola, a shrimpy second string receiver for most teams, has become the "go to guy" for the Patriots. Knowshon Moreno, a no-name running back, is having a career year for the Broncos, because defenses are completely geared to thwart Peyton Manning's passing.
Brady has come back from an ACL, MCL blowout in 2008 while Manning sat out 2011 with a serious spinal injury. He threw a record 55 touchdown passes this season.
This year Tom Brady's two best receivers missed the season. Aaron Hernandez is awaiting trial for murder and Rob Gronkowski has been crippled by a dictionary of leg injuries. Peyton Manning's Coach, John Fox, almost died from a heart valve blowout nine weeks ago
Brady and Manning are friendly rivals and occasionally play golf together during the off-season. They both live like adults, though Brady and his model-actress wife Gisele Bundchen have the more expensive lifestyle — they just bought a $14 million dollar New York City condo.
These are two really serious guys who love and respect the game, and know their time at the pinnacle is running out. Brady's teams have won three Super Bowls, Manning's, one. Tom is 36, Peyton, 37.
I am really stoked for this matchup.
I have watched football all of my life. I go back to Bobby Layne and Y. A. Tittle. Brady and Manning are the all time greatest. You can take Joe Montana and Dan Marino. This will be a classic. I cannot wait to see them compete.
Question: Who is the greatest NFL quarterback of all time?