I love to watch the Shark Tank reruns on CNBC. The stories of committed entrepreneurs putting it all on the line in orchestrated mini-dramas in front of the "Sharks" is really quite absorbing.
But the one thing I never see on the program is the entrepreneurial manufacturer looking for the backing to buy a Haas Mini Mill or Okuma lathe to start his business. In our machinery business we virtually never see a young man or woman buying a used machine to make fittings for Parker Hannifin or John Deere.
I asked Bryan Harvey of Thompson Auctioneers if he sees many young entrepreneurs buying their first machines at his sales and he said it is "extremely rare" except perhaps for the folks in Bangkok or Bangalore, India, who follow their sales assiduously on BidSpotter.
Is the fledgling entrepreneur in manufacturing now an artifact in America? Maybe not.
I called Matt Hertel who started Pocket NC, a $4,000 5-axis CNC mill builder in Bozeman, Montana, and he gave me a different picture.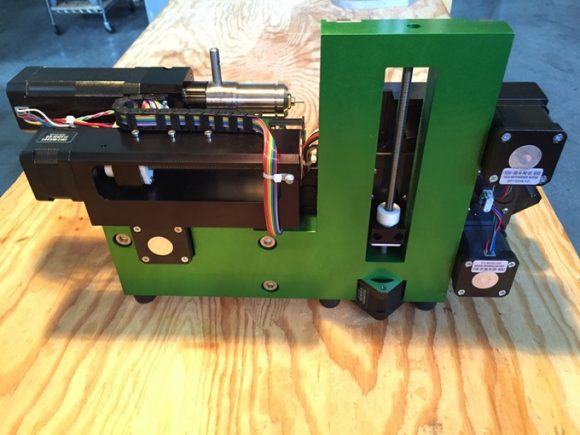 Matt and his wife, Michelle, started production on the machine in 2015 after moving back to Bozeman from Seattle. They raised their startup money not on Shark Tank, but through the novel Kickstarter approach online. They had already built several prototypes of the mill, and Michelle had blogged extensively about the market and buildability of a $4,000 5-axis mill to prepare a community for the ultimate Kickstarter campaign.
The Hertel's had tried conventional money raising forays, doing a dog and pony show on video for the private equity titan Blackstone Group. He was told that it was probably the worst received pitch of the year.
But Kickstarter loved them. They raised $350,000, which was to be paid off in product produced. Each $4,000 contributor to Kickstarter was repaid with a 5-axis mill.
Matt Hertel told me that the most successful Kickstarter event of all time may have been for potato salad. An entrepreneur with a $10 minimum contribution raised $70,000, which he paid off in a giant potato salad bash.
In its first three years in business Pocket NC has been quite successful and has sold little mills to a wide assortment of bigger companies and tiny startups. One just went to Europe to a guy who is making a bicycle washing machine.
I posed my question about an apparent dearth of machining startups to Matt, and his feeling was that I was looking in all the wrong places.
Matt believes the entrepreneurial spirit is alive and well, even in the Millennial world, but you need a community, whether it be online via Kickstarter or in coffee shops or incubators in Bozeman. Matt says that in his Montana home there is a community of folks eager to help anybody with an idea and the guts and skill to try to bring it to fruition. You cannot create a milieu like that artificially with government funding and Big Brother hovering. A grant from Google or IBM to jumpstart an incubator in Chicago or Cleveland unfortunately will not work. The community needs to grow organically like it has in Bozeman. Could it happen in Detroit or Cincinnati? Maybe, but I do not see it happening yet. But with precision manufacturing as strong as it is today we may begin to see it. As the Baby Boomers hang it up and old businesses dissolve, there will be opportunities for startups where we have not seen any for the last decade.
If potato salad can do it …
Question: Is it a good time to start a business in the United States?