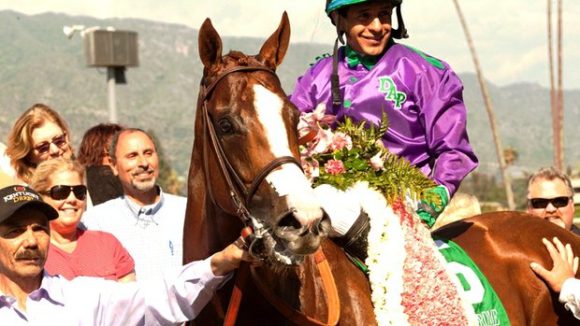 I am hardly a horse racing buff, but the story of California Chrome, winner of this year's Kentucky Derby and Preakness, is just so Mickey Rooney, it's irresistible.
The California horse is trained by Art Sherman, who at 77 is the oldest trainer to ever win a Derby. A former jockey of little success, the 5'2" fellow's only other appearance at Churchill Downs was in 1955 as an exercise boy for Derby winner, Swaps. He actually slept on the straw with Swaps on the horse's four-day road trip from California to Louisville for the race.
California Chrome is owned by an unlikely partnership of two blue-collar guys, Perry Martin and Steve Coburn, along with their wives. Martin owns a tiny materials testing firm at the former McClellan Air Force base where he used to work for the Air Force until the base was closed. His claim to fame until now is writing the Electronic Failure Analysis Handbook in 1999. Coburn is a press operator at a firm that produces magnetic strips for credit cards.
These guys are not big time operators. Coburn's wife Carol bought her Kentucky Derby outfit at a Cracker Barrel restaurant. The name of their racing outfit is DAP, which stands for Dumb Ass Partners. The colors of the silks are purple and green, her favorites.
Art Sherman, California Chrome's trainer, is on the fringes of racing. He works out of minor league race tracks in California and trains about 15 horses with his son Alan. He just bought a house in a retirement community near San Diego. He loves California Chrome, who comes from quite undistinguished thoroughbred lineage. His mother cost $8,000 and his father cost $2,500. The horse has a refined appetite however — he hates carrots but loves cookies. Sherman says the horse really races to get his horse cookies, Mrs. Pasture's Paddock Cookies, made of molasses, barley and corn.
Dumb Ass Partners turned down a $6 million offer for a 51% stake in the colt shortly before the Derby, so I don't think the Coburns and Martins are all that dumb.
Personally, I have little interest in horse racing, but I've always loved the hokey movies about the Sport of Kings. My dad Leonard was not a huge fan of horse racing, but he was fascinated that a used machinery dealer he knew, Isaac Blumberg, founder of Adams Machinery in Chicago, had owned a Kentucky Derby winner in 1960 named Venetian Way. I remember going to Gulfstream Park Racing with him in Hallandale Beach, Florida when his health was failing. We picked horses to bet $2 on, for no good reason except that we liked their names. They were memorable outings, if only because they were so unlike his normal everyday routine in Florida. So when I hear about California Chrome, Dumb Ass Partners, and a 77-year-old trainer who slept alongside his horse in 1955 on a cross country schlep, I love it. Win that Triple Crown, you big brown cookie-loving nag! I'll have a few bucks on your nose.
Question: Can a small shop running mechanical equipment compete with a large shop running the latest and greatest?
"National Velvet" staring Mickey Rooney and Elizabeth Taylor