I find California the most interesting state in America. It is not known as a machining mecca, but it is home to America's most progressive and largest machine tool builder, Haas Automation of Oxnard, north of Los Angeles.
It appears we may not be saying that much longer as Haas prepares to build a gigantic manufacturing complex in Henderson, Nevada, just outside Las Vegas. Gene Haas, the owner of the company bearing his name, has bought a home in Henderson so he will be able to have his eyes and ears to the ground in the 2 million plus square foot project. He will also save a bundle on taxes in Nevada.
He is following the lead of Elon Musk, who is based in the San Francisco area and builds Teslas in Fremont but constructed his massive battery plant in the Reno, Nevada, area.
California is still a great place to live, go to school, start companies, vacation, and press olive oil, but for making stuff profitably it is Alcatraz. Skilled people find it hard to afford unless they commute from the boonies and start at 4:00 AM. The politicians are hostile to manufacturing because they think it pollutes everything. California's regulations and taxes make those of Illinois look benign.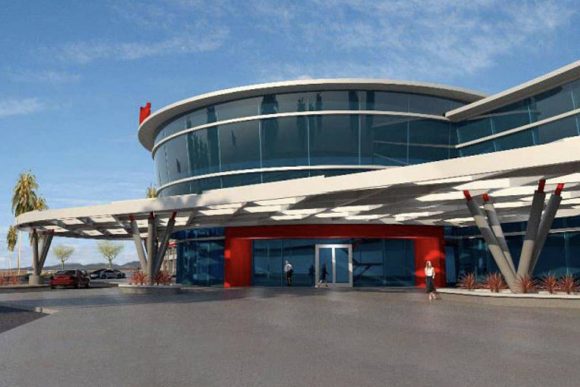 Many people with homes they have held for decades are selling to move to Idaho, Utah, or Nevada because they are livable places that are still affordable by California standards.
I understand Haas is offering some great end-of-year sales these days, but that may not be because of preparations to move to Vegas. You don't build 2 million square feet of manufacturing space overnight, even if you are Gene Haas. Likely the company will have two facilities for while, still using its original location in Oxnard, California.
* * * * *
Another interesting event in the L.A. area besides forest fires and power outages is the return of Harvinder Singh to the machining business.
Mr. Singh sold his interest in Ganesh Machinery to a private equity firm in 2018 and began a machine tool financing firm in nearby Moorpark, California. Running Ganesh Singh had built up the import of Taiwanese lathes and machining centers with aggressive pricing and attentive customer service. His company did not try to be the most sophisticated provider but gained market share by selling value.
Evidently the new people who bought the firm did not have a feel for the industry and were heavily leveraged. When Ganesh did not produce the returns they were hoping for they abruptly sold off the finished inventory to an auction firm and abdicated.
Harvinder says he did not know it was coming until it happened, but he happily came back to pick up the pieces. He says he reassembled the company within a few weeks, and it is now up and running under a new name, Expand Machinery LLC. He hopes to really hit his stride by the New Year. In the meantime, he has kept the financing business while he puts Ganesh back together.
In business nothing ever stays the same. In California that seems doubly true.
Question: Are you happy with the location of your business?