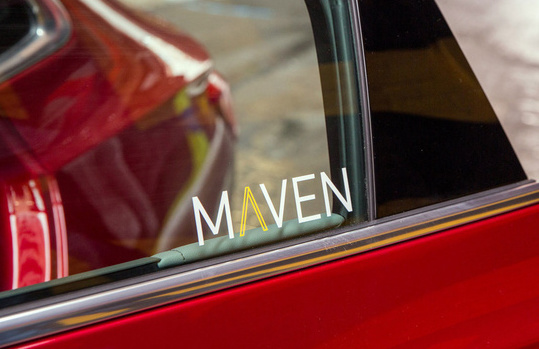 General Motors is doing more than just making a $500 million investment in Lyft, the ride sharing competitor of Uber. It also appears to me that GM is doing more than just hedging their bets about the future of car ownership and usage.
The company has named its new venture "maven," which I find both interesting and ironic. "Maven" comes from Yiddish. It means a person who really knows his stuff by accumulating a vast amount of information in a given area. For instance, someone who really knows shoes, boots and sandals could be called a "footwear maven."
By hiring a team of people from Google, Sidecar and Zipcar and making the investment in Lyft GM is accumulating first hand knowledge of the future of driving. Ann Arbor, Michigan, is going to be the laboratory for the company to test several different types of ride sharing. Maven will rent cars by the trip, like Zipcar does, for as cheap as $6 per hour. It will place them strategically in residential blocks. The vehicles will feature connected car systems enabling music and other preferences to follow drivers from car to car electronically. WhatsApp, the ultra popular phone app for free texting and voice calls throughout the world, will be used to obtain customer feedback.
Eventually self-driving cars will come into play, but this is quite an interesting venture today for the traditionally stodgy General Motors. Looking at Maven from 50,000 feet, it has a head start on its competition—Uber, Zipcar, and potentially Apple and Google. It already has the "content"—the cars. GM is developing the delivery method of its content in a place receptive to new ideas and one right in its backyard—Ann Arbor. I find it exciting, particularly after using Uber myself several times in the last week because of eye issues.
Even where I live in the southern suburbs of Chicago, not the most sophisticated part of the metropolitan area, Uber seems quite efficient and easy to use. My average wait for a pickup has been seven minutes. My trips, 10-17 minutes, cost between $11-$15. If you figure the costs of driving a car in the city Uber is priced competitively, unless you use your car a lot and drive significant distances. The big statistic that GM, Uber and Google are staring at is that most people use their cars less than one hour per day.
I talked to my small sample of Uber drivers about their job. One fellow, who recently moved to Chicago from Los Angeles, said he views it as his full time business. He said he makes good money, has a lot of autonomy and plans to keep doing it long-term. My two other drivers were newcomers to the job. One was retired and looking for something to keep himself busy and earn some dough, the other was a rather uncommunicative woman who prefers to just drive in the area. She had been doing it for four months. Potentially, Uber and Lyft could sop up quite a few people on the outskirts of the workforce who do not want the boredom and cheap pay of a McDonalds or Wal-Mart job.
Question 1: Do you look forward to using self-driving cars?
Question 2: Do you think changes in driving patterns will help or hurt the machining world?