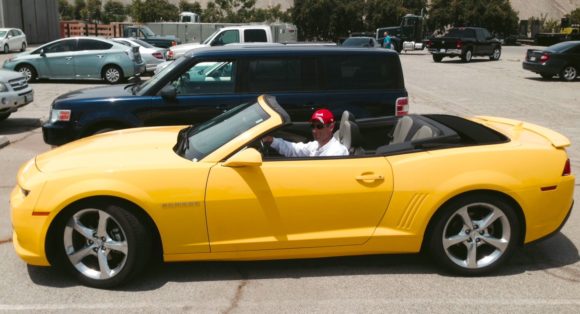 On Sunday I drove up highway 101 at 95 miles per hour in a bumblebee yellow Chevy Camaro convertible. "Born to Be Wild" blasted on the stereo. My face rapidly bronzed under the California sun. A good way to start my week.
Last week I had a pleasure/business trip to California (90 percent pleasure), spending the first five days at our family's timeshare in Carlsbad near San Diego. I had to visit a customer in L.A. on Monday so I jetted up the coast Sunday morning in a nice rental.
I think most people would concur that renting cars is not one of life's great pleasures. First the shuttle from the airport, followed by waiting in line, followed by spending a half hour with the "professional" at the counter setting everything up, even though supposedly you had already reserved a car online or by phone prior to the trip. Then you feel another poke in the gut as you realize the car with the features you need costs way more than you thought it would, both because you have to upgrade models and then because the taxes and fees triple the $20 a day bargain you had chosen online. That doesn't include the price of the insurance that the agent always makes you feel guilty about declining, even though you've repeatedly been told that your credit card and personal car insurance is supposed to be sufficient.
Yes, if you are a Hertz Gold member you can reserve a car beforehand and have a car waiting for you when you arrive with the keys in the ignition, bypassing the nonsensical time suck. But you still don't know what actual car model you are going to end up with, so if you're picky like me and don't like the Dodge Charger they've stuck you with, you might have to go back inside and wait with the other sheep anyway.
But enough negativity. Yes, the rental car experience can be annoying, but on the other hand, if you go to a reputable company like with Hertz with a good selection of cars, and you get a cool agent, I've found the experience can be both amusing and even satisfying.
My one request every time I rent a car is to have Bluetooth capability. Number one — I need a handsfree phone both for safety and to avoid traffic violations, number two — so I can use my iPhone as an audio source. Pandora and audio books can make me even look forward to being caught in traffic.
The week before the California trip I was in Seattle for work. I must have spent at least a half hour discussing car options with my agent at Thrifty (Graff-Pinkert was trying to be lean). To get Bluetooth in my car I was going to have to pay $20 more per day than for the midsize we had reserved. The agent and I stared at the computer together combing the different car options. I took a shot in the dark and asked if any convertibles were available, figuring it would be way more expensive. I always had wanted to drive a convertible and a few sweet rides sitting idle outside were staring me in the face. He typed a bunch of stuff into his computer and then told me that he can do an amazing deal for me. He offered me a Mustang convertible for just $15 more per day than the car I would have to upgrade to for Bluetooth. He said it was because we were in Seattle in April, so convertibles weren't so in demand. I couldn't resist and took it. I decided that I would pay Graff-Pinkert the extra money back if they wanted it, I didn't care because I now had a car that I had fantasized about driving. Seattle turned out to be sunny the next day and only drizzled for a few minutes during my two day stay. Sure, the price which supposedly was going to be $55 a day turned out to be something like $80 after all calculations, but I had a Mustang convertible. And I had gotten a deal!
San Diego followed suit. At Hertz (my dad is a Hertz guy) we requested a convertible. This time they had nothing affordable, but the woman behind the counter started typing furiously into her computer and presented us with an incredible deal for shiny Mercedes SUV for something like $20 per day. Yes, we had to spend a half hour waiting for her to work this miracle, but we held back our antsiness because she was working so hard give us the most amazing impossible deal of the century. And we felt pretty good about ourselves, especially after she gave us a AAA discount on gas if we bought it ahead, and I didn't even have my card with me. I never buy gas ahead, but the deal just seemed too good to pass up!
Finally, our great vacation ended and our family went its separate ways. The jaunt to L.A. after San Diego had been unplanned prior to the trip, but we figured I'd just take the Benz for another two days. After all, it had Bluetooth. But no, we then found out that our wonderful deal was actually too good to be true. I called Hertz to extend my use on the car but the nice Filipino woman on the phone, who truly was trying her best, told me that it was going to cost a ridiculous amount of money to extend the car because the catch of our "amazing deal" was that you couldn't return the car at alternate airports. After wasting a half hour of my life on the phone with an unhelpful Hertz worker 7,000 miles away, we decided it would be best just to return the car to Hertz at the San Diego airport and rent a new car, even though it meant traveling a half hour in the opposite direction of L.A.
It was a familiar drill by then. Me: "I need a midsize with a Bluetooth." Agent: "Sorry, you have to upgrade to the luxury model to get that." Me: "What about a convertible?" Agent: "Well actually, let me see what I can do." Then, what do you know, he found me a garish badass yellow Camaro convertible for only $10 more per day than the cost of a boring car with a Bluetooth, a feature which I had to have, as it is explicitly illegal to pick up a phone in the car in California.
The scene was perfect! I had a convertible to drive up the Pacific Coast Highway — the right way to drive up the Pacific Coast Highway. And although I had to drive a half hour out of the way and then hold a plastic smile through the mandatory rental car BS, I felt like I had GOTTEN A DEAL! Lets hear it for those rental car magicians.
Moral of this story. Nice salesperson + fun product + magical mumbo jumbo + patient customer = happiness, sometimes.
Question: If you could rent any car, what would it be?