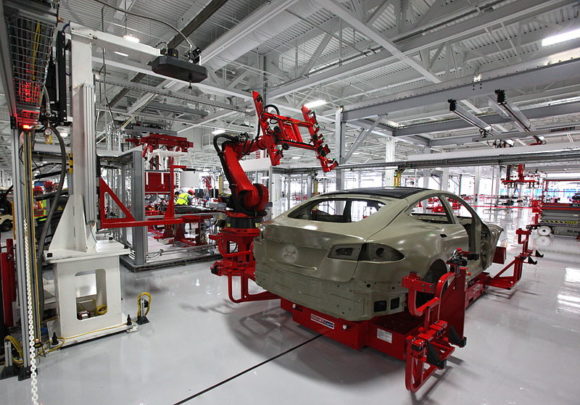 Automotive is back. America has become a great car-making mecca again. Almost every major builder has a manufacturing presence here. The market for cars is solid, if not exuberant. The industry has headed to the South in Tennessee, the Carolinas and Texas, and even further south into Mexico, which has integrated itself into North American manufacturing like Canada did 25 years ago. The UAW is no longer such a dominant player in the car building scene. The recent rejection of the Union by Volkswagen workers in Chattanooga is representative of its marginalization by younger workers who see the UAW as a vestige of hobbled Detroit that protects its bureaucracy and the interests of its older highly paid Northern workers, at their expense.
An interesting parallel to the UAW civil war among auto workers is the battle auto dealers are waging with Tesla. Tesla rejects the entrenched system of auto franchisees who are bestowed the right to sell cars in a given area. Somewhat like the Starbucks model of company owned stores, Tesla thinks it should own its distribution, create the selling atmosphere it wants, and keep the middleman's profit. Cry baby car dealer groups are fighting this approach with big expenditures for clout and lawyers. While Tesla is a small player in the market, it has tremendous caché and visibility. If Elon Musk wins his right to sell from company stores, or even by mail-order or in malls, it could erode the value of traditional dealerships, which are already hurting from Costco intruding and Internet price shopping. The specter of Amazon Prime selling Honda Civics also has to be scary for dealers.
*********
Automotive business is strong, but not everybody in the industry is happy. Aluminum, plastics and composites are trampling on steel all over the car. Weight reduction to meet gas mileage requirements is forcing every component maker to experiment with lighter weight options. Steel is the target. Ford's F-150's aluminum bed is the symbol of the switchover, but weight reduction is being considered for every component.
*********
We are seeing better mileage everywhere, yet gasoline prices stubbornly stay high. While we are pumping more petrol out of the earth in North America, refining capacity is static. Oil is also being exported to a world market that sucks it up. Fracking has been successful but has not ramped up as fast as people expected because of politics. President Obama still sits on the Keystone XL Pipeline from Canada. The Ukraine standoff is as much about petroleum as it is about Vladimir Putin and his ego.
Crimea has enormous frackable oil reserves. Ukraine has not developed this incredibly valuable resource, but Putin may do so if Crimea ends up part of Russia, which appears likely now. Even if Russia doesn't develop Crimea's potential oil reserves (if it acquires Crimea), Ukraine would be at Russia's mercy without petroleum.
Obama and John Kerry are talking tough, but if Germany, which gets much of its fuel from Russia and provides three quarters of Russia's investment funds, does not get tough with Putin, Ukraine will be isolated and cold. Putin will probably not be a big winner in this tiff, but he will not be a forsaken loser. He will be seen as a power-hungry thug in the West, but still an important world player. Russia has a lot of negatives – decreasing population, rampant corruption, un-democratic politics, but its control of vast hydrocarbon resources will probably keep it going for at least a decade or two.
Question: Is GM still way behind its competitors?