I am in the process of making a lot of changes in my surroundings. The axiom used to be that as you get older it gets harder to change, but I don't find that to be true. Seeing friends and associates get sick and die makes it easier because I want to sandwich more stuff into my life while I still can. If I have the energy and the money to replace the old appliances in the house and sand the floors and paint the walls I want to do it now.
The redo in my house has nothing to do with enhancing its value. Where I live home prices have stagnated for 30 years. Whatever money I've spent is an investment in happiness, not appreciation. Maybe that is the ultimate value play, anyway.
This year I'm spraying the apple trees on the Graff-Pinkert property. They have a fungus on the bark, and last year we lost the entire crop. This year I hope to see a big crop of tasty, red Jonathan apples in September. Is it an economic judgment to spray? Hardly. It is all about the fun of picking and eating the fruit.
I think of all the money I have sunk into my warehouse over 35 years. Recently I spent $10,000 to remediate moldy walls and drywall. It was an investment in health, but it really brought me no joy. Of all the investments I have made in the property the one that undoubtedly has brought me the most pleasure is paying a young artist, Mike Eisenwasser, 15 years ago to paint a mural on the side of a 40-foot container next to my warehouse. I see it every time I drive onto the property and every evening when I leave. I look out on it during the day. It is colorful and symbolic. It tells a story that gives meaning to my life and work, of connecting people through commerce and writing. It gives a visual voice to how I feel about my work.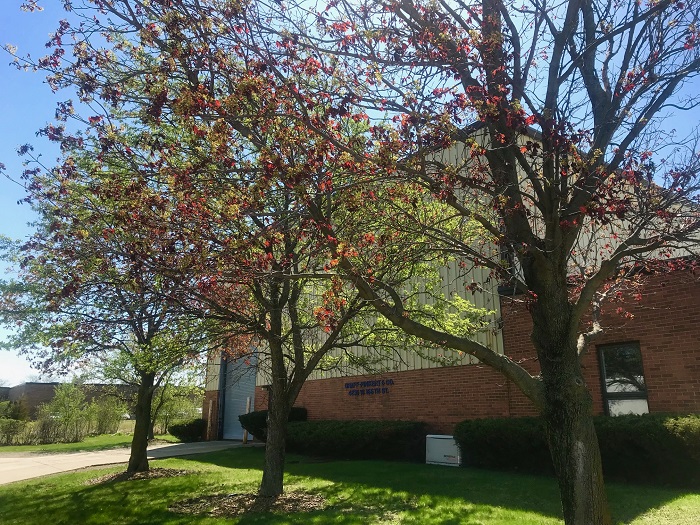 I think the value of art and storytelling is really undervalued in manufacturing businesses. People like to work in pleasant surroundings. I think customers often want context for what they are buying, whether that is in a story on the website, a sales person embodying the product, the packaging of the material, the voice that answers the phone, or the follow-up or apology for mistakes or delays.
The people who think everything in business is by the numbers are wrong. Decisions often are not clear cut in business. If it is a close call the winner is usually the one who is considered the most reliable or easy to work with or caring.
I imagine lots of folks are bewildered that Noah and I spend so much time on stuff that may seem frivolous and frothy to the community we serve. From a financial standpoint Today's Machining World and the podcast are hardly great investments in time and energy. But Noah and I view ourselves as storytellers and artists. We do this work because our creative souls long for expression. It gives us joy to reach out to the thousands of people who connect with us frequently or once in a while.
I think the connections we make do ultimately bring us customers but that is not the purpose of this investment. We do it because we love to do it. We do it because we almost have to do it.
Question: Can you justify epoxying a factory floor?