The wedding dress business has tied the United States intimately with China. My niece Diane is a doctor doing her residency in Baltimore. She is super busy, so my sister Susan is doing the spade work for her upcoming wedding.
I was fascinated when I heard about the process of buying a wedding dress.
It turns out that a large percentage of the world's wedding dresses are produced in the city of Suzhou, near Shanghai. (Suzhou is also home to thousands of machining companies.)
The industry has been rapidly moving online with precious little attention paid to the intellectual property of the designers like Vera Wang who sell the $10,000 dresses in bridal salons. One can buy knockoff dresses direct on eBay from a raft of Internet stores. I gather this is a highly risky endeavor. For $150 you can order a dress online, hope for the best on the fit and then spend $50 with a local dressmaker to make it look presentable. Another option is to shop at a storefront with Chinese made dresses to try on, but often there's just one size of various dresses, so you better be a size 6–also risky.
This is an evolving business model. Because the Chinese have access to cheap sewing talent and have scaled their silk and lace products they have an enormous advantage in the marketplace, but lead times for dresses are three to four months.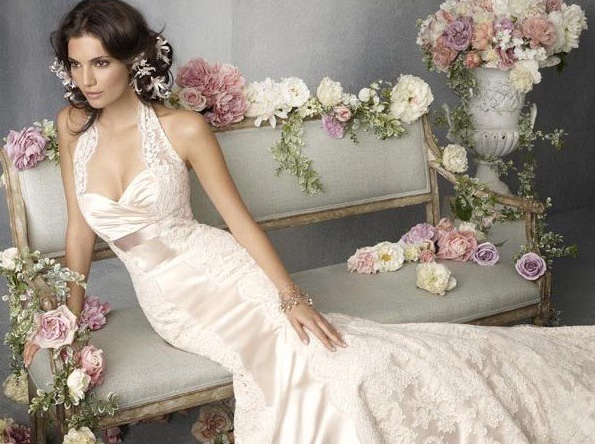 I am intrigued by this model because of the parallels to the machined parts world. The high labor demands of a custom dress gives China a big edge. The economies of scale enable specialization and cheaper access to materials.
The Internet brings in customers from around the world and the ease of ripping off designer fashion enables a lot of styles for consumers to choose from.
The proliferation of storefronts in American cities where Chinese firms can develop connections with buyers is a refinement of the bricks and Web approach.
I think there is an opportunity for a mid-priced bridal dressmaker to develop a "Made in America" dress, based on service and delivery, by keeping a stock of fabric here and developing a local workforce. The magic of wedding dresses is the aura of specialness provided at the point of the transaction. If that magic can be enhanced by local production of the gown, the locally made bridal dress could make a comeback.
In the machining world, the cost differential with China seems to be steadily closing. In China it is becoming harder to find enough blue collar workers with skills, so wage increases of 30 percent are common, year on year. Chinese companies are aggressively seeking skilled people for their factories in Europe and North America. Unlike silk, metals are competitively priced here.
Today, China is the place to purchase a wedding dress, but in a world marketplace, that could change overnight.
Question: Is it possible to protect intellectual property today?