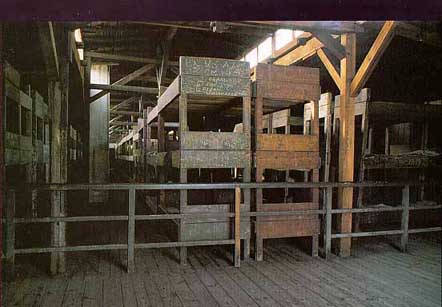 Thirteen years ago I visited Hell for two hours and then boarded a bus to a local hotel.
My wife Risa and her friend Judy were taking a winter holiday in Poland, immersing themselves in the Jewish history and culture of our Eastern European ancestors. To fully understand their life it was crucial to see how it virtually ended in the Nazi gas chambers of World War II. Poland, to its credit, has maintained its Concentration Camps as permanent shrines to its appalling past.
I had chosen not to do the trip, but I was doing some business in Europe at the time and joined them to take the chartered bus from Krakow to Lublin where the Majdanek Concentration Camp was located.
This memory reopened for me Monday when Bob Ducanis of Orlando, an old friend and client, sent me a book he had just read, Ordinary Men by Christopher Browning, about the local guys in Poland who became willing, even eager participants, in the Nazis' "Final Solution." Reading the 1992 paperback brought back my memory of Majdanek, which I would like to share.
Our bus ride to Lublin was slow because of a continuing snow. Not much talk because I think everybody on the bus was thinking about relatives who made this trip to death in sealed railroad freight cars. We finally arrived at Majdanek. To my amazement it was a few hundred yards from a residential neighborhood in the old city of Lublin, once a hub of Jewish life in Poland.
We disembarked from the bus to enter the main building of the Camp. The weather was cold, with light flurries, but not harsh. Everybody walked toward the entrance but me. I tried to take in the moment, but I was struck by the sheer ordinariness of the buildings and the closeness of the town. This factory for killing looked from the outside like a rundown manufacturing plant on the Southside of Chicago.
An impulse hit me to pull off my heavy parka – and then my sweater, shirt – and finally, undershirt. I wanted to really feel the cold on my naked chest. I felt the snowflakes melt on my body, rubbed some snow on my hands, and tried to connect with the horror people must have felt 60 years earlier. It was a weak gesture of connection. I put my clothes back on and walked silently back into the "welcoming" area.
There was a registry of the people who had the horrible misfortune of being sent to this Death Camp. There were notes next to the names, like "Jewish" or "Gypsy". I had forgotten that the Nazis regarded Jews and Gypsies and homosexuals all as vermin to be eradicated by their efficient extermination processes. I touched the straw barracks beds that the victims used for a very short period before they were killed.
Then I moved on to the shower room. That was where the true horror of the place hit me. I saw where the gas came through the vents to quietly kill the naked showerers. I took in deep breaths – and didn't die – and then I walked out shaking. I couldn't deal with any more. I left and sat down next to the bus. I relived the showers and looked at the ordinary neighborhood so close by. "They had to know what was happening in their midst," I kept thinking.
Finally, my fellow Concentration Camp tourists came out of the building and we headed for our local hotel – in dead silence.
Comments?