I received calls and emails all day congratulating me on the Cubs fantastic victory Wednesday in the World Series. Thanks, I did get the winning hit in the 10th inning, but really, I'm just one guy and it took a whole team to pull it off.
Perhaps it isn't so crazy to congratulate me for being a fan, an enthusiast, a progenitor of two generations of new fans, of adding to the monster TV ratings, of even buying an MLB labeled Maddon jersey, size 2XL.
I should be congratulated for cheering for terrible players like Cuno Barragan who had a lifetime batting average of .202. He had one career home run which came on his first at bat in 1961 in front of 5427 Chicago Cubs. Barragan's other claim to fame was hiding in the Cubs' huge manual scoreboard with a telescope and stealing signs from the opposing catcher. There was an exit sign over center field which he could light up or douse with the push of a button next to the telescope. The exit sign on red meant a fastball, unlit signaled a curve.
The Cubbies were so bad in 1962 that the owner, P.K. Wrigley, decided to institute the "College of Coaches." The team would rotate in a new manager every few days, as the 12 designated coaches switched jobs randomly. The Cubbies went 59-103 in 1962.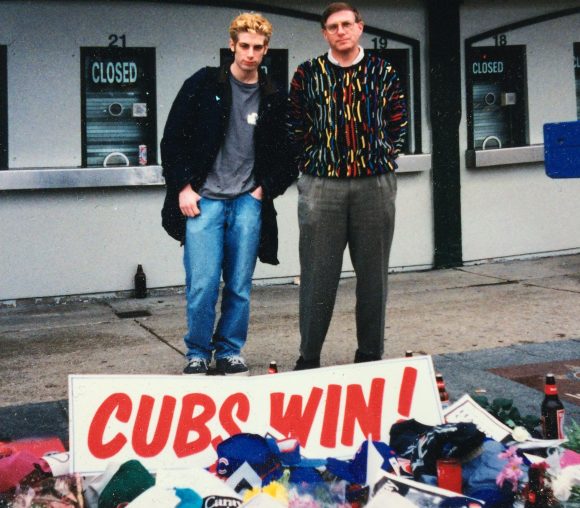 But there were reasons to be a fan through the 14 straight second division finishes.
Ernie Banks came to the Cubs in 1953 from the Negro League. Ernie weighed about 170 pounds but hit 511 homers in his career. I patterned my own batting stance after Ernie's, as did just about every other kid I played with, right elbow cocked, bat at a 90 degree angle to the ground, and then propel the bat through the zone with lightning fast wrists. Unfortunately, I didn't have Ernie's coordination – or wrists. All my children adopted Ernie's stance, too.
One thing that sustained me as a Cubs fan was their great broadcasters. First there was Jack Quinlan in the '50s and '60s on radio. Quinlan could describe a game so brilliantly you could see it on the old Philco. His call of Don Cardwell's no-hitter in 1960 was memorable.
Joe Cunningham was up for the St. Louis Cardinals with two outs in the 9th. Here is Jack's call.
"Cunningham's arguing now, he's really barkin' at Tony Venzon the plate umpire … he's really sore … he's really peeved at that strike two that was called. One more pitch we're hopin' for. The dark one. Blow it past him Don! Here comes the biggest pitch of this ballgame. Lined to left (crowd gasps). Here's Moryn comin' (crowd roars). HE CAUGHT IT! He caught it. A no hitter. His teammates are pounding him to death."
Then there was Jack Brickhouse's "Hey Hey Holy Mackerel!" And Harry Caray. I loved Harry so much when I listened to him as a kid on KMOX in St. Louis when he was calling Cardinals games for 25 years. He called White Sox games for 11 years and then spent 16 years calling Cubs games. Listening to Harry sing Take Me Out to the Ballgame in the 7th inning of Cubs games was one of life's genuine pleasures for me.
When Harry died in 1998, Noah and I went to Wrigley and helped decorate his makeshift memorial with Cubs memorabilia. (See Photo)
**********
I received an email yesterday from my cousin Dan Pinkert, who was my Dad's partner Aaron's son. Danny lived next door to us and sent me this note.
Lloyd, During the World Series I remembered the day your mother took me to the first Cubs game I ever attended. I don't remember if the Cubs won, but I do remember that we were stuck in traffic on the way home and your mother complained about the traffic because she had to go to the bathroom. I then became a Cubs fan and recall watching games a lot on the TV in your living room. It wasn't until 8th grade that I found out I was supposed to be a Sox fan because I lived on the south side, but by then it was too late to switch teams. So all he grief I got in high school being a Cubs fan was due to your family.
But it finally paid off!!!!
Thanks to you and your parents for raising me as a Cubs fan.
Dan
***********
Being a fan – well, it's how you are raised. It's your religion. It's like a tattoo, you can't ever remove it.
I'm enormously grateful I've lived my life as a Cubs fan. I'm happy we won the Series, yet I am sad to see the season end. But the beautiful thing is, my Cubs season never ends. We've got personnel decisions to make. What free agents are available?
And I've got four grandchildren to teach the game to. Go Cubs.
Question: Do you have any fan stories?
Steve Goodman performing "A Dying Cubs Fan's Last Request"
from one of the Wrigley Field rooftops.