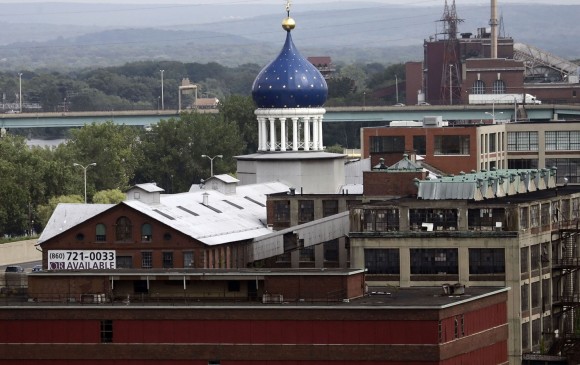 HARTFORD, Conn. — As a decade-long push to make a national park out of Samuel Colt's 19th-century gun factory won approval, elected officials hailed the project as a way to boost one of Hartford's poorest neighborhoods and honor the revolver as a marvel of manufacturing. Notably absent from the celebrating was Colt's Manufacturing Co., as it and other gun makers say a strict gun control law has left them feeling unwelcome in the state.
The factory, distinguished by its blue onion-shaped dome, opened in 1855 and is perhaps the best-known symbol of an era when gun companies in the Connecticut River valley helped to pioneer the concept of interchangeable parts and drive the Industrial Revolution.
While New England politics have not been seen as friendly to guns for years, the relationship between gun makers and leaders who championed gun control became bitter after Connecticut adopted one of the country's toughest gun control laws following the 2012 Newtown elementary school shooting. A gun industry association withdrew its support for the park project, and Colt executives, who closed the factory in West Hartford one day last year so workers could protest the gun legislation, have declined to discuss it.
Read more here.