The Chicago Cubs have two superb leaders, Anthony Rizzo, who is a contender for National League Most Valuable Player, and Jon Lester, whose 15-4 record makes him a solid possibility for the Cy Young award. Both men are terrific team players and lead by example, but they share another attribute that sets them apart from their peers. Both are cancer survivors, diagnosed while playing, taking a year off for chemotherapy, and coming back to play much better than before being diagnosed.
They share something else. Both give of their time, notoriety and money to support cancer research and patients. Rizzo spends virtually every off day in Chicago at Lurie Childrens' Hospital visiting child cancer patients, and Lester has a line of wine whose proceeds go to the Hutchinson Cancer Research Center in Seattle.
Both players were diagnosed with Lymphoma, a cancer of the lymph nodes.
It is not just coincidence that they are both on the Cubs. Theo Epstein and Jed Hoyer, who make the personnel decisions for the Cubs, were both with the Boston Red Sox during their glory years. Epstein and Hoyer drafted both Lester and Rizzo for Boston. Lester was already a star pitcher when he was diagnosed with cancer. Rizzo had been traded to San Diego as a minor leaguer and had just reached the Majors when he was diagnosed with Lymphoma. Hoyer had moved on to San Diego and made the trade that sent Adrian Gonzales to Boston for four prospects including Rizzo. Rizzo was traded to the Cubs for a first round draft pick, Andrew Cashner, who could throw the ball through kryptonite until beset by arm trouble. Rizzo has become a perennial All-Star First Baseman.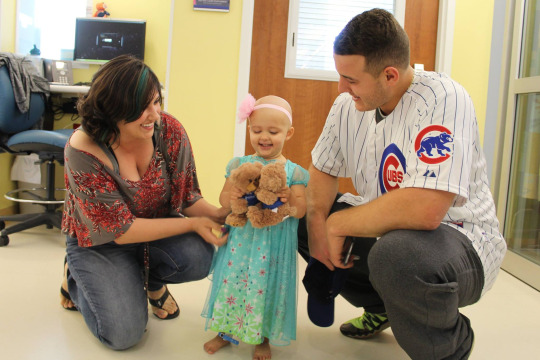 John Lester signed with Cubs last year for about $30 million per season and is justifying the contract this season, at 32.
Whether the Cubs win the World Series this year, these two men will always be winners.
*******
For me, the most entertaining show on TV is American Ninja Warrior. The idea behind the show actually came from a similar Japanese program. Contestants attempt to traverse an extremely challenging obstacle course, ending with a Warped Wall, a brutally steep incline to be run up after surviving a devilish, exhausting course. Week after week contestants try their luck on the courses around the country. Newbies may wait in line for weeks to get their chance, while other candidates who have shown their worth in previous years, come back to try again.
American Ninja skillfully edits back stories about some of the competitors into the one or two hour show. Both men and women compete with no relief given to the women. There is no prize money except for the ultimate winner, who somehow finishes the impossible Mount Midoriyama gauntlet in Las Vegas. Last year, there were actually two men who bested the Vegas challenge, but only the fastest one got the million-dollar prize.
Ninja is really the height of happy amateurism. Contestants train together and cheer for one another to get through the obstacles. Ninja Warrior gyms have sprouted up around the country and many people have built their own challenging courses to practice on. Some folks come on in silly costumes, but the courses are so tough that injuries, some serious, are not uncommon, particularly in practice.
We are in the last phase of this year's American Ninja Warrior. My (cousin?), Jesse Graff, an L.A. stuntwoman, has been the star this year, getting to the Las Vegas finals versus the fittest men you will see this side of the Olympics. My whole family is rooting for Jesse to win it all. I heartily recommend that you watch this NBC show. It is what TV does best.
Question: Do you have an inspirational cancer story?