Making sense about the economy today. As I travel the 15 minutes from my home to work I see four vacant strip malls. Maybe a restaurant still survives and a dry cleaner, but mostly I see vacant space, empty parking lots and for rent signs. Retail is dying out in my area of Chicago suburbia.
It appears the space will be empty indefinitely as Amazon remakes retail. Food delivery will expand as people get used to ordering their asparagus from photos. Prepared food will continue to grow in popularity from restaurants and specialty retail shops.
There is an opportunity for independent food outlets who know their niche and can execute because supermarkets generally cannot manufacture palatable prepared food. The sterility of most supermarkets gives Amazon an enormous opportunity to use Whole Foods to remake the space, but early returns indicate that they are in the learning stages. I used to love to peruse a good supermarket, but today I hate them. They deserve to struggle against restaurants and specialty shops until they become competitive.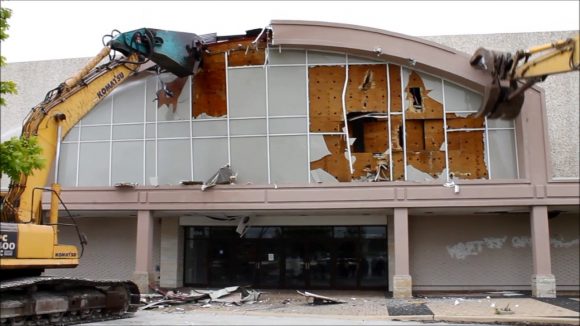 Will the empty malls find an economic purpose? The only category with traction today appears to be restaurants, primarily fast food. They do not require huge square footage and parking.
When the financial entities blessed with these properties finally are forced to pay their taxes and utilities, the grass starts growing in the parking spaces, vagrants occupy the store aisles and lawyers are no longer being paid to try to collect rents from defunct businesses we will see some movement. There will be demolitions if people will pay for the wrecking balls. If towns had the money they could make appealing parks and public spaces, but generally they don't have funds today. It looks like suburb rot for the next decade to me.
*****
The Fed is pushing rates up because that's what the playbook says it should do. It makes sense if you are a central banker with degrees in economic orthodoxy, but I ask, why try to raise rates when there is little inflation except in real estate in a few cities on both coasts and in affluent caucasian enclaves? The American economy has struggled for a decade. Middle and lower income people have lost ground, school debt is a crushing problem and healthcare is a disorganized mess that most people struggle to finesse. Manufacturing here is finally competitive worldwide after two decades of shrinkage. The stock market is probably in the latter stages of the "Trump Bump." American education is less favorable to the lower and middle incomes than 20 years ago, and the gap between elite and average schooling seems to be expanding. I think a few more years of relaxed interest rates would be helpful for the bulk of the population who do not rely on interest for its wellbeing.
Fortunately, money still likes to buy American issued debt as the Fed struggles to strangle us with high rates.
*****
The tax bill passed in December is a mishmash of restructuring, but the bottom line is that it will help most people in America. The Nervous Nellies and Sourpuss Democrats shriek about it, mainly because they are supposed to hate it, but it has a lot of goodies to be sprinkled into the economy. The question that does remain is whether the increased deficit will be difficult to borrow money for. Early indications are that it will be easily digested by the enormous American economy, which is growing at almost 3%. A big hiccup like 2008-2009 coupled with the stupidity of Wall Street gamblers could upset the apple cart. That's why you keep money in the cookie jar.
My belief is that the best hedge against a recession and inflation is creativity, risk taking mentality, and optimism. I've been observing markets, the economy and happiness for a long time, and following the crowds is usually a good way to lose. Listen to your gut and then pursue something else because your gut is always chicken.
Question: How often do you eat a homemade dinner?