After 50 stunningly disastrous years, Detroit is seeing the spark of revival that comes when things get so bad that only the truly visionary can see through the rubble.
I'm not talking about autos. Making cars comes and goes. At the moment, auto is back with a vengeance; maybe 18,000,000 sleds this year! This is no surprise to anyone selling parts, turning metal, or molding polymers. That revival has been going on since two of the "big three" dumped their debt (and shareholders) in bankruptcy to improve their balance sheets, and the third hired a manager who actually understood that it was about "the product, stupid." Hopes for Detroit always rise with auto sales, but auto sales are only a small piece of what is driving the current revival in what locals call "The D."
What's really behind Detroit's revival are an influx of educated young people and change agents like Quicken Loans founder Dan Gilbert and insurance entrepreneur David Cotton, an obstetrician who bailed out of medicine into finance when he saw the change that was coming to health care funding.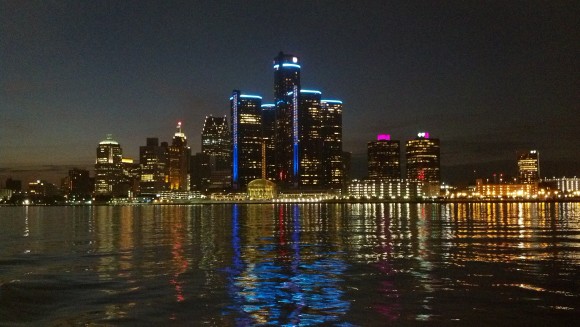 Cotton saw the pathetic way health care is administered and established insurance and management systems that employ many people in low and mid-level administrative jobs in downtown venues. Gilbert, a non-practicing lawyer with a history of bookmaking in college, bought every building he could in Detroit (and Cleveland before that) for pennies on the dollar. Gilbert is taking some of the world's best architecture (this WAS the Paris of the Midwest), and reformatting it into hip spaces where young people move data, market stuff, including cars and mortgages, and live. Gilbert is making things happen. Many others sat on these properties for years, waiting for…well, someone like Gilbert. Although he is currently under attack by government regulators unhappy with some of his employment practices, Gilbert is generally considered a good employer, and he's sparked a ton of small businesses that occupy his properties. Gilbert, Cotton, and the others had the benefit of a path forged by real risk takers like Little Caesars founders Mike and Marian llitch whose years of investment in Detroit sports and entertainment kept the city on the map and relevant. Detroit recently elected a mayor who is known for being a turnaround guy. That he is white and elected by a mostly black constituency speaks volumes about how much Detroiters wanted change from the years of corruption and incompetence that preceded him. Other developers are also investing now that you don't need to bribe a city official to get a meeting. Two big hospital systems and a thriving university add to the mix.
There are many others who are embracing this moment like the restaurateurs who've made Detroit a foodie haven. I dined recently at a new hipster joint located in a burned out area across from the city's wholesale food markets. The proprietor moved from Brooklyn and bought the Detroit property for the cost of a month's rent in New York. There are countless others providing great food in stunning venues resurrected from the dead, a fact that reminds me that we should cherish our architectural history like Europeans do. I have dined far and wide, but it is hard to find more interesting and pleasurable food than that which I've had recently in the "D."
Detroit's population outflow has stopped, mostly. This is a city of over 140 square miles that had roughly 1.8 million people in 1950. Starting with the nation's first urban freeway, Detroit paved the way for its then predominantly white residents to flee to the wide open spaces of suburbia in the cars they made. Jobs and factories followed thereafter. They rolled up the windows, locked the doors, and hit the gas after the riots in 1968. Now, there are about 700,000 souls over the same acreage. If you do the math, that's a ton of vacant land. The delivery of services is inherently inefficient when there is one house still standing on five blocks of otherwise vacant land. People left behind are over 80% black, and 50% are functionally illiterate. Only half the properties generate property tax, a fact that goes a long way to explaining the need a couple of years ago for the largest municipal bankruptcy in history. Some of this land is being used for forestry and agriculture, but most of the development by Gilbert and others has been in a few square miles in and around downtown.
The abandonment of the city by whites fleeing to the suburbs is part of what crushed city government and a source of some resentment by those who were left in the decay for three generations. Unfortunately, their lot has not improved much since most of the development seems to be for and about educated and mostly white people who do clean work in light filled spaces before heading out for exotic small plate offerings at prices that almost seem embarrassing.
That is not to say that the development has been all white. Detroit is, perhaps, one of the most ethnically diverse cities anywhere. We have more Middle-Easterners than anywhere outside the Middle-East, in addition to many Asians, Indians, and Hispanics, which creates a wonderful diversity that just makes the city cool. But that drop of diversity still has not provided much of a lift for the mostly back residents of the other 130 square miles whose school system is almost a billion dollars in debt and whose children are killing each other in numbers that are unfathomable in a civilized society. When I questioned one of my developer buddies about this contrast, he noted, correctly, that Detroit's revival is no different from many other cities, including Chicago, where the affluent and educated live one life, and the poor and uneducated live quite another. A rising tide may lift all boats, but if you don't have a boat, then it doesn't matter. You tread water or drown.
Question: What do you think of when you think of Detroit?
Russell Ethridge is a prominent attorney in the Detroit area and longtime contributor to Today's Machining World.