I've been talking to a lot of smart people and reading some well-researched material so I can pretend I know stuff that you don't already know.
One thing I really wanted to get my brain around is whether well-paying manufacturing jobs will be "coming back" to the United States.
My conclusion – old jobs are not coming back, but millions of new jobs will be created. Some will pay well, others will not. People will be rewarded for being industrious, flexible, creative and well-prepared for being able to add value in the cracks where automation and artificial intelligence have not figured out how to penetrate yet.
I remember, back in the day, when Graff-Pinkert needed a machinist who could be trained to be a machine tool rebuilder. We had a variety of applicants including one Union member from the Pullman Works plant of the International Harvester Corporation. He was a pleasant guy, but his training at Harvester had left him completely helpless to work in a small shop that valued versatility and efficiency. We asked him to display his skills on a lathe and he confessed that at IH he had only run round bars. We thanked him and told him he was not prepared to work for us. As he walked out he asked plaintively if his buddy could have the job, because "he knows how to run hex."
That Harvester plant is long gone. The 10,000 workers that trudged to work, paid their Union dues to the Teamsters year after year, and produced the same axles and fenders on the same machines decade after decade are retired, dead or working at Home Depot today.
Harvester will never be resurrected. We have lost 40% of the plants with 1,000 employees or more in recent years. Big unionized factories are dinosaurs and in a few more years they will have almost totally vanished.
The last bastion of Union membership is in government. Half of Union the workers today work for taxpayers, but the inequities in the contracts negotiated by weak or corrupt elected or appointed nabobs will come back to haunt them. According to Michael Hicks, a very smart professor I talked to this week from Ball State in Muncie, Indiana, a Chicago teacher's pension today is bigger than that of a Three-Star General. The Charter School movement in places like Chicago, which has special appeal to African American parents, poses a big threat to status quo education, which is why the Teachers' Unions despise the trend.
******
The "good jobs coming back" theme took another hit in the scrotum in a conversation I had with Steve Tamasi, the head of Boston Centerless Corp.
His company is one of the foremost suppliers of ground stock, much of which goes to companies using Swiss-type sliding headstock machines to supply the medical device, electronics, and aerospace industries. Tamasi's firm is doing well, but with more than half of his volume coming from the medical device sector he has been fighting the mega merger trend in the industry. The medical device lines are maturing and consolidating. The 2.3% tax on revenue to finance Obamacare also punished the industry. When organic growth shrinks, big companies merge. It's what they do. Then they do their magic. According to Steve Tamasi, they reduced inventory and hammered on the supply chain. It's Merger 101. Then they cut employees, reduced the number of factories and declared bonuses for the brilliant executives who survived the knife.
******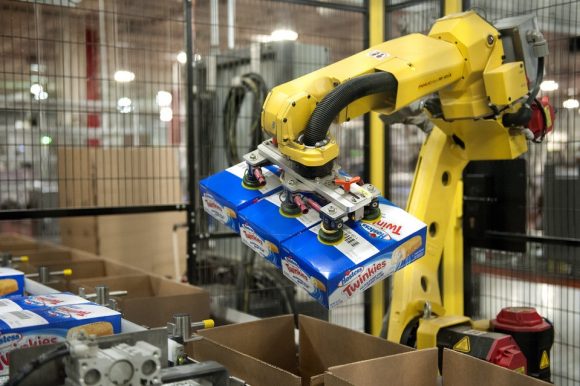 I recommend a terrific article in The New York Times on the purchase and sale of Hostess Twinkies and Ding Dongs brands. Two hedge funds partnered on the deal, Leon Black's Apollo Global Management and Metropoulos Fund owned by Dean Metropoulos. They bought the brands and eight factories at a bankruptcy auction in 2013 for $410 million which they borrowed against their assets and their reputation for shrewdness. The money came from the Texas Teacher's Pension Fund and other institutions.
An acquaintance of mine who works for a prominent foundation in Chicago told me that his $1 billion-dollar institution seldom gets a chance to get in on a deal like Hostess Brands because the hedge funds can usually fund the most interesting deals with a few days of calls and meetings in New York. Princeton University alone has a $90 billion endowment fund and they are always looking for Hostess-Ding Dong kinds of deals.
Mr. Metropoulos specializes in food deals. He made a killing on Vlasic Pickles. He closed five of the eight Hostess bakeries, automated the bakery in Emporia, Kansas to maximize the output, expanded a factory in Columbus, Georgia with incentives from the state, streamlined the supply chain and bludgeoned suppliers. He turned Hostess into one humdinger of a deal. In a few years, Black and Metropoulos sold the company to another hedge fund for $2.3 billion. Head count at Hostess had shrunk from 8,000 to 1,400 people. The Union bakeries were the first to go. I think there are still some "good jobs" in Emporia, Kansas.
I am not condemning Black and Metropoulos. If they had not bought Hostess some other hedge fund would have.
With automation and artificial intelligence coming on even stronger in the 2020s there will be even fewer of those "good factory jobs." Today factory jobs comprise 9% of the jobs in the United States. Even without the competition from China and Mexico that number will fall. And China and Mexico face the same issues we have here – stagnant wages and shrinking, "good jobs in the factory."
The trends don't lie. Teach your kids how to pitch.
Question: Would you consider $13/hour jobs at Amazon "good jobs?"