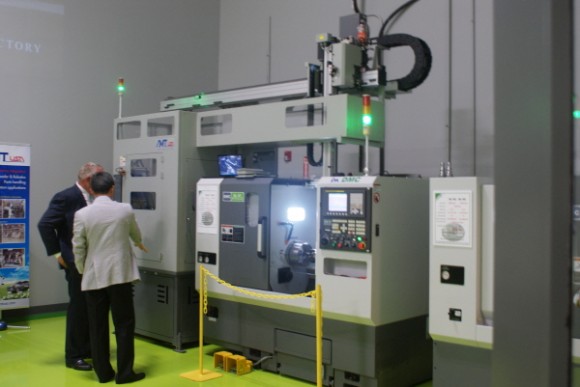 Recently, I spent a nice few hours with Rory Gintert, head of DMC America Inc., a large, successful Korean machine tool builder just starting to sell machines under its own name in America. Gintert showed us a beautiful array of sophisticated CNC machines at their newly finished facility in South Elgin, Illinois.
How is it that such a large and ambitious machine tool builder like DMC is unknown here?
DMC has been building bread and butter machines for Doosan, Hyundai and Samsung for many years. It kept them busy as they built out their own product line in Asia. Now they want to play in the same arena with the big boys who had previously been their customers and put their own brand and colors on the machines. Gintert is signing up distributors all over North America, with the advantage of having worked in the machine tool industry for 28 years, including a long stint with the Haas Factory Outlet in southern Wisconsin.
Most people do not know that big name machine tool companies often outsource their production to lesser known yet capable firms with extra capacity. I learned this a decade ago when I found out that ZPS, the Italian owned Czech builder of the Euroturn (ZPS, Mori-Say) Multi-spindle screw machines, produced quite a few lathes for Okuma in the Czech Republic. Such reciprocal agreements are fairly common in Asia.
Talking to Rory Gintert got me wondering who the big dogs really are in the machine tool world.
According to the Metalworking Insiders' Report newsletter, the Shenyang Group of China leads the pack with slightly larger sales than Trumpf of Germany, the king of sheet metal and laser, though Trumpf is bigger in total sales. Shenyang's major brands are SMTCL, Scheiss, ZJ and Fiyang. (I hadn't heard of them all either).
Gildemeister ranks third, and Yamazaki Mazak fourth. Mori-Seiki is ninth and Okuma, tenth. Haas is 16th with just under $1 billion in sales behind Hyundai and Doosan. Citizen-Cincom, which owns Miyano, showed $675 million in revenue.
*****
I read a slightly disturbing piece in Bloomberg BusinessWeek about the importance of subprime loans in the current car buying boom, which has almost reached the sacred 16 million unit mark.
Yield starved investors have developed a healthy appetite for subprime auto loans, packaged together and sold as bonds. Car dealers and makers are loving it. This year, investors have bought $17.2 billion. Chrysler has been the big winner with 58% of the loans taken out to purchase Dodge brand vehicles above 4.2% APR according to Edmunds.com. The average Dodge loan carried is 7.4%, and 23% of loans had APRs over 10%. Chrysler has had 43 straight months of rising sales. The company board is eyeing a public offering.
This is how the Fed has helped out business. I'm not knocking it, but if and when Janet Yellin and the Fed allows rates to rise, Chrysler may feel it the hardest.
Question: Would you care if your Ford was made in a Chrysler plant?