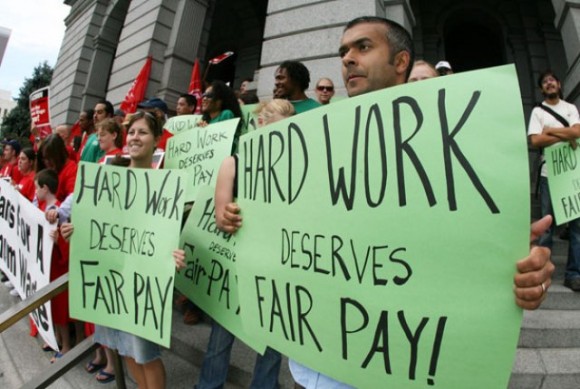 With elections coming up we are hearing more talk about raising the minimum wage. In Chicago, Mayor Rahm Emanuel advocates $13 per hour. Seattle is phasing in a $15 rate. New York's left wing Mayor, Di Blasio is blathering on for the need to lift it substantially in the city. President Obama obviously is promoting it as a good way to save the Democratic majority in the Senate in 2014.
My do-gooder side sympathizes with the plight of the $8 an hour worker cutting lawns or flipping burgers. But the sad fact is that a significantly higher minimum wage in America will mean fewer workers with full-time jobs and ultimately just fewer workers.
The anomaly of America's workforce is that we have an estimated 4 million unfilled jobs. Try to hire a drywaller, a screw machine setup person, or a machine tool rebuilder. You probably won't get a bite, even at $25 per hour. Sure, there will be a disgruntled person looking for a change, or a refugee from a failed company, but there is no steady flow of qualified people to draw upon. This makes it difficult to grow businesses without an in-house training program, which is an expensive  luxury for most firms.
The interesting trend that I see taking root in the U.S. is the skilled person becoming a travelling professional, selling his skills to the highest bidder. The Hydromat or multi-spindle setup person or rebuilder will ultimately command $75 – $125 per hour as scarcity drives the price up. They may well earn more than the company owner, but they will be "hired guns" brought in only for as long as needed.
We are seeing this already with organizing websites like Uber, which is known for providing rides from point to point, but the concept works for all sorts of tasks requiring particular skills or tools.
The part-time workforce manned by entrepreneurial specialists skirts the health insurance-by-employer model that has become the norm in recent decades. Businesses will increasingly maintain a small core of daily employees, but that core will shrink as the pool of specialists increases.
As I see it, the low-end jobs will consistently be filled by machines. The trend will speed up all the faster as we raise the minimum wage. If we continue to make 30-hours per week the threshold for benefits, companies will spread the work with 29-hour per week people. The spread between richer and poorer will become more pronounced. One beneficiary may well be the armed forces, which will become a significant work option for young people who do not like their civilian job options.
The American educational system is starting to adapt to this new normal, but the institutional biases toward a 1960s style of education still prevails in high school and colleges. We are not getting enough even moderately skilled blue collar workers, whether it be drywallers, plumbers or machinery rebuilders to re-supply the workforce needs.
But the hopeful element I see today is the potential visibility of entrepreneurial specialists, organized by entrepreneurial web sites. This will pull more smart folks into overlooked but increasingly well paid gigs. This is why Uber, the archetype of this approach, has a value of $17 billion based on current venture capital funding. Times are changing. The $13 minimum wage will be irrelevant in the long run.
Question: Will a significant change in the minimum wage change your economic life?
Read an interesting piece about women breaking into the taxi industry with Uber at The Atlantic.