I am all into the concept of self-driving cars. That does not mean I am ready to be a pioneer and buy one of the early iterations like the Tesla Model S with Autopilot, but I am a totally engaged fan of Elon Musk as he gambles on the sexiest new technology in his cars.
The inevitable happened on May 7. Joshua Brown, one of those risk-taking kind of guys who always wants the newest and hottest technology, put his Model S on Autopilot at 74 miles per hour next to a semi with a white trailer on a cloudless Florida day. The car's navigation system drove the vehicle under the trailer as it turned into his lane on the highway, killing Mr. Brown. The Mobileye navigation system could not distinguish between the bright sky and the white tractor trailer.
Mobileye has now ended its deal with Tesla, but it is still heavily involved with GM, Nissan, BMW and Hyundai in developing autonomous driving applications.
The corporate dance we are now watching with Tesla, Mobileye, the National Transportation Safety Board, insurance companies and the lawyers who fight for and against them is fascinating. Naturally, Tesla and Mobileye are bobbing and weaving, knowing that lawsuits await.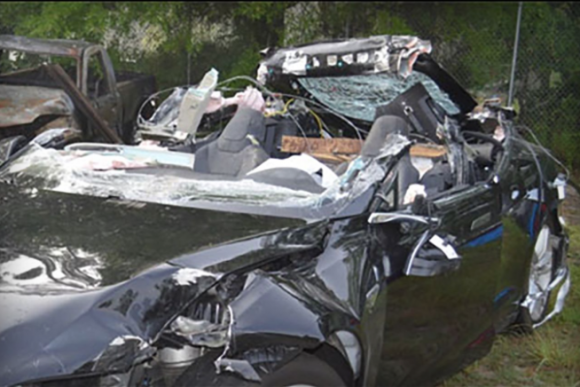 The Geicos and State Farms have huge money potentially at stake if cars become substantially safer. Car insurance generates $200 billion in premium revenue. If accidents were cut in half by autonomous cars, you can imagine a lot of folks could make the decision to gamble on going naked on fender bender policies. It could ruin the current business model for Jake at State Farm.
Huge money is going into driverless car research. In Palo Alto and Ann Arbor such cars are constantly rolling around local streets. They are so common they don't even get a second look in Palo Alto. Google and Apple both see the car as a vital piece of their business in the next 10 years.
After the Joshua Brown accident, the doubters have come out to crow about the virtues of humans at the wheel, but 35,000 traffic fatalities a year tells a different story.
I have always been a technology doubter. To this day, I prefer maps to a GPS system. However, I really hope and believe I will eventually buy an autonomous car to replace my 2003 Toyota Avalon. I am holding off buying a new car because the only reason I can see to buy one is to get the driverless features. The primitive parallel parking apps that are being advertised now hold no allure. I actually like to parallel park, though living in the burbs gives me scant opportunity. I do think the lane warning feature has value.
Let the engineers and lawyers do their work. Autonomous cars are coming, and personally, I can't wait to be driven by one.
Question 1: Do you like to drive?
Question 2: Do you like convertibles?