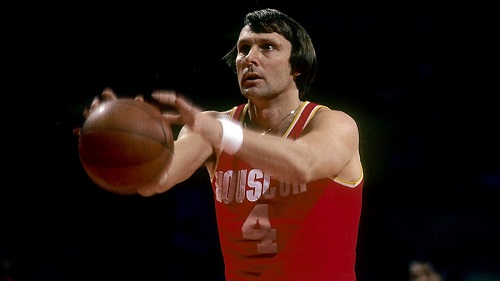 I watched the NBA Finals with rapt attention as LeBron James and the Cleveland Cavaliers beat Steph Curry and the Golden State Warriors.
One thing that struck me was despite the incredible athleticism of the players, several key guys on the floor were inept free throw shooters. Tristan Thompson, Andrew Bogut, and Festus Ezeli were butchers at the line.
It brought to mind Wilt Chamberlain, perhaps the greatest basketball player ever, who was also a pathetic foul shooter.
As luck would have it, I was listening to a podcast by Malcolm Gladwell, historian, writer, social commentator and big time hoops fan. He was telling the story of Rick Barry, another Hall of Fame basketball player, and Wilt. Barry usually led the NBA in free throw shooting, and Wilt was perennially at the bottom in percentage. Barry once approached Wilt and told him he could help him, but Chamberlain declined because Barry shot his free throws underhanded. Wilt said, "If I shoot underhanded they'll call me a sissy," and Barry said "not if you make them."
Gladwell asked Barry, whose three sons all played in the NBA, how he came to shoot underhanded. He said his father was his high school basketball coach in New Jersey. He was a star player, but he only shot his free throws at 70%, which was OK but not as good as his Dad thought he could shoot. One day Rick's father told him he wanted him to shoot underhand in the next game. Barry objected, saying they'd call him a sissy, but he obliged his father and coach. A fan in the crowd yelled, "Barry you're a sissy," but he made all the free throws he took that night, and his father said, "You're not a sissy if you make them."
In sports and in life most of us bow to social pressure. We are afraid to change course. The worst thing is to be laughed at by our peers because we dared to be different.
As we get ready for the Rio Olympics all of the world class high jumpers will be using a high jump form known as the Fosbury Flop. Prior to 1965 and the emergence of Dick Fosbury every competitive high jumper cleared the bar with a western roll or even a scissors kick, but with the advent of soft pits to land on Fosbury developed a revolutionary technique in which he would sprint diagonally towards the bar, then curve and leap backwards over it. He won the Olympic Gold Medal in 1968. They probably called him a sissy or worse when he first tried the flop.
Going back to the NBA Finals, Draymond Green of the Warriors has redefined his position on the court. He calls himself a "Point Forward" because he often rebounds the ball off the defensive backboard and leads a fast break down the court. It takes tremendous athleticism to combine those skills, but more and more players like Green and Lebron James are popularizing this position. When Ben Simmons, the 2016 #1 pick in the NBA draft, was asked what his position was, he responded, "I'm a Point Forward."
I am a little surprised that we have not seen radical shifts in football and baseball—probably the power of social pressure. The New England Patriots show some originality by shunning first round draft picks to focus on second through fourth round picks where most of the best players are found. In baseball, the split finger pitch changed the game, but today pitchers see it as an arm killer so it has been shelved by most. The Cubs are innovating under Manager Joe Madden by playing players in multiple positions. On Tuesday he used three pitchers in the outfield. While there usually is one "utility infielder" on a team, Madden is trying to assemble a team of athletes who can play multiple positions. He wants a team of "Swiss Army Knife" versatile players.
On the machine tool front, the DeCaussin family in Los Angeles were sure they could build a vertical machining center for half the price of the dominant Japanese machines. Working with little money out of an 800-square-foot garage in North Hollywood, California, they built their first prototype with a tool changer in 1974 and drove it to IMTS in the back of their pickup truck. It was a big success and financed their venture into vertical machining centers in 1979.
Unfortunately, creativity is shunned in sports, like it usually is in business. We trudge along day after day, rarely gambling on a new strategy or technique.
We don't want to risk being a flop or being called a sissy.
Question: Would you punch someone who called you a sissy?