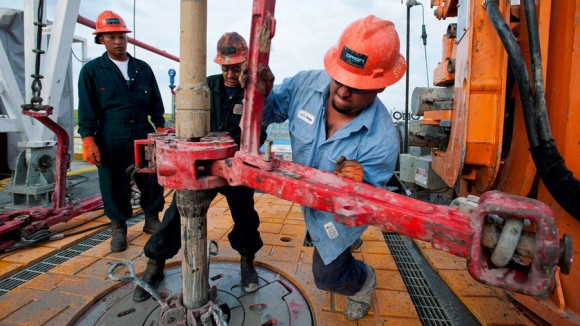 The path toward U.S. energy independence, made possible by aboom in shale oil, will be much harder than it seems.
Just a few of the roadblocks:Independent producers will spend $1.50 drilling this year for every dollar they get back. Shale output drops faster than production from conventional methods. It will take 2,500 new wells a year just to sustain output of 1 million barrels a day inNorth Dakota's Bakken shale, according to the Paris-based International Energy Agency. Iraq could do the same with 60.
Consider Sanchez Energy Corp. The Houston-based company plans to spend as much as $600 million this year, almost double its estimated 2013 revenue, on the Eagle Ford shale formation in southTexas, which along with North Dakota is one of the hotbeds of a drilling frenzy that's pushed U.S. crude output to the highest in almost 26 years. Its Sante North 1H oil well pumped five times more water than crude, Sanchez Energy said in a Feb. 17 regulatory filing.Shares sank 7 percent.
Rethinking the Ban on Exporting U.S. Oil
"We are beginning to live in a different world where getting more oil takes more energy, more effort and will be more expensive," said Tad Patzek, chairman of the Department of Petroleum and Geosystems Engineering at the University of Texas at Austin.
Drillers are pushing to maintain the pace of the unprecedented 39 percent gain in U.S. oil production since the end of 2011. Yet achieving U.S. energy self-sufficiency depends on easy credit and oil prices high enough to cover well costs. Even with crude above $100 a barrel, shale producers are spending money faster than they make it.
Missed Forecasts
Companies are showing the strain. Chesapeake Energy Corp., the Oklahoma City-based company founded by Aubrey McClendon, reported profit yesterday that missed analysts' forecasts by the widest margin in almost two years. Shares declined 4.9 percent. Fort Worth, Texas-based Range Resources Corp. fell 2.3 percent after announcing Feb. 25 that fourth-quarter profit dropped 47 percent.QEP Resources Inc., a Denver-based driller, slid 10 percent after fourth-quarter earnings reported Feb. 25 fell short of analysts' predictions.
The U.S. oil industry must sprint simply to stay in place. U.S. drillers are expected to spend more than $2.8 trillion by 2035 even though production will peak a decade earlier, the IEA said. The Middle East will spend less than a third of that for three times more crude.
Bulls Crow
Shale wells can vary in price. Chesapeake will spend an average of $6.4 million each this year, according an investor presentation last updated yesterday. Houston-basedGoodrich Petroleum Corp. will spend up to $13 million on some of its wells, Robert Turnham, president and chief operating officer, said in a Feb. 20 earnings call.
Bullish analysts and oil executives have reason to crow. While drilling in Iraq could break even at about $20 a barrel, output will be limited by political risks, Ed Morse, global head of commodities research at Citigroup Inc. in New York, said in a January report. By contrast, the break-even price in U.S. shale is estimated at $60 to $80 a barrel, according to the IEA. The price of a barrel hasn't dipped below $80 since 2012 and has stayed above $90 since May. Costs in the U.S. will continue to fall as drillers get faster and improve results, Morse said.
Crude Exports
"The U.S. oil and natural gas renaissance is receiving significant investment because return on investment is good and competitive with other opportunities," Rick Bott, president and chief operating officer of Oklahoma City-based Continental Resources Inc., a pioneer of shale drilling, said in an e-mail. "We're confident that continued technological advancements will keep the Bakken and other plays at the forefront of investment for the foreseeable future."
Harold Hamm, the chairman and chief executive officer of Continental Resources who became a billionaire drilling in North Dakota, told U.S. lawmakers Jan. 30 that the country, which U.S. Energy Information Administration data show supplied 86 percent of its own energy last year, can drill its way to energy independence by 2020. Hamm is leading an effort to get Congress to allow crude exports for the first time since the 1970s.
U.S. oil production will average 9.2 million barrels a day in 2015, up from 7.4 million last year, according to the EIA, the statistical arm of the U.S. Energy Department. Colorado boosted output by 11 percent in the first 11 months of last year, Wyoming was up 12 percent and Oklahoma added 24 percent.
"I don't see the shale boom coming to an end," said Andy Lipow, president of Lipow Oil Associates, an energy consulting firm in Houston. "We're just getting started in places like Colorado, Wyoming and Oklahoma."
Horizontal Wells
Sanchez Energy said in a Feb. 19 statement that Sante North 1H isn't yet finished and the well will produce more oil than the early report suggested. The company said it has 120,000 acres in the Eagle Ford and plans to spend 90 percent of its exploration budget there this year. The company's shares have risen 63 percent in the past year.
Traditional wells are bored straight down, like straws stuck into large deposits of crude. Shale is tapped by steering the drill horizontally through layers of oil-rich rock, sometimes for a mile or more. The formation is blasted apart with a high-pressure jet of water, sand and chemicals, a practice called hydraulic fracturing or fracking, to open up cracks that free pockets of trapped fuel. The complexity and materials needed to drill horizontally and blast the rock add to the cost.
Yield Little
The boom's boosters have given rise to the misconception that wringing oil and gas from shale can be easily replicated throughout the country, Patzek said. That isn't the case, he said. Every rock is different. The Bakken shale, along with the neighboring Three Forks formation, covers an area larger than France, according to the IEA. An oil-bearing formation that's 400 feet (122 meters) thick in one spot may taper off to nothing just a mile away, Patzek said. What works for one well may yield little in a neighboring county.
The output of shale wells drops faster, too, falling by 60 to 70 percent in the first year alone, according to Austin, Texas-based Drillinginfo Inc. Traditional wells take two years to fall by about 55 percent before flattening out. That forces companies to keep drilling new wells to make up for lost productivity.
"You keep having to drill more and you keep having to spend more," said Mark Young, an analyst with London-based Evaluate Energy, which tracks production and its costs.
Sweet Spots
A prolonged slide in prices below $85 a barrel may put pressure on operators that have struggled to contain costs or that don't own acreage in the prolific "sweet spots" of the oil fields, said Leonardo Maugeri, a former manager at Rome-based energy company Eni SpA who's researching the geopolitics of energy at Harvard University's Belfer Center for Science and International Affairs.
Companies have boosted well productivity and will continue to whittle down the break-even price, he said. While the boom could survive a brief dip in oil prices, a long slump could slow drilling and cause production to fall swiftly, Maugeri said.
"To sustain in the short term, the U.S. needs prices at $65 a barrel," Maugeri said. "That's a critical level. Below that level, many opportunities will vanish."
The U.S. benchmark oil contract for West Texas Intermediate crude for delivery in April 2016 is trading at about $85 a barrel, almost $18 a barrel less than today and still $20 above Maugeri's threshold.
Net Debt
Even with crude prices above $100 a barrel, U.S. independent producers will spend $1.50 drilling this year for every dollar they get back from selling oil and gas and will carry debt that is twice as much as annual earnings, said Ryan Oatman, an energy analyst with SunTrust Robinson Humphrey Inc., an investment bank in Houston.
By contrast, the net debt of Exxon Mobil Corp., the world's largest energy explorer by market value, is less than half of the cash earned from operations last year. The company will spend 68 cents for every dollar it gets back this year, according to company records and analyst forecasts compiled by Bloomberg.
So far, oil prices have been high enough to keep investors interested in the potential profits to be made in shale, Oatman said.
"There is a point at which investors become worried about debt levels and how that spending is going to be financed," Oatman said. "How do you accelerate and drill without making investors worried about the balance sheet? That's the key tension in this industry."
To contact the reporter on this story: Asjylyn Loder in New York ataloder@bloomberg.net