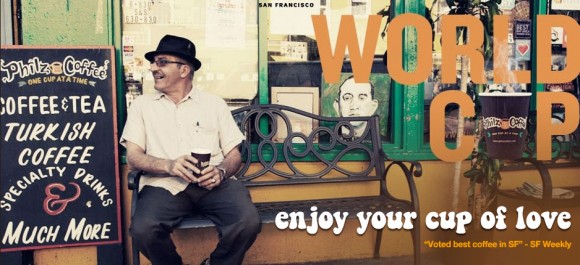 By Lloyd Graff.
I was out in Palo Alto visiting my daughter and made a call on my new favorite coffee shop, Philz Coffee. The Philz approach to coffee makes Starbucks seem like a crude imposter, and I don't think Starbucks is all that bad at what they do. But Philz is what Starbucks started out as, before it lost its way and corporatized, and before Howard Schultz wanted to own a pro-basketball team in Seattle and have books written about him.
Philz was started by Phil Jabar 10 years ago, and the original location was in a corner grocery shop he owned. He had been experimenting with coffee blends for 25 years and wanted a store as quirky as he was. Today he has 13 locations in the Bay area and the two that I've tried are always crazy busy.
The coffee is different because each cup is a Philz mixture of flavors. No lattes or cappuccinos, and though his drinks taste similar to such creations – they are different. Each cup is brewed individually with a filtered water drip process. The barista adds the sugar, or milk, or soy, or celery salt – you name it – to make the drink to your taste. It is less acidic than other coffees and the concoctions are screwy and wonderful.
But the real differentiating aspect of the Philz coffee experience is the warmth and engagement of everybody who works there.
Starbucks began with this approach of developing its people, but the fattening of the behemoth has diluted the experience. Philz is seemingly all-in on the people side. It's Web site goes on almost ad nauseam about its emphasis on genuinely friendly, helpful team members, but the amazing thing is that they really do believe in it. They honestly drink the Kool … excuse me … coffee they make.
When I went to one last week I just had to burst out and say, "you're all so nice here." The lovely young woman at the register said, "Look up at the wall. That's our mission." Printed in huge type it said "The Philz Mission, Better People's Day.
This place really seems to live its motto. Wouldn't it be nice if we all did.
Question: Do you still do Starbucks?