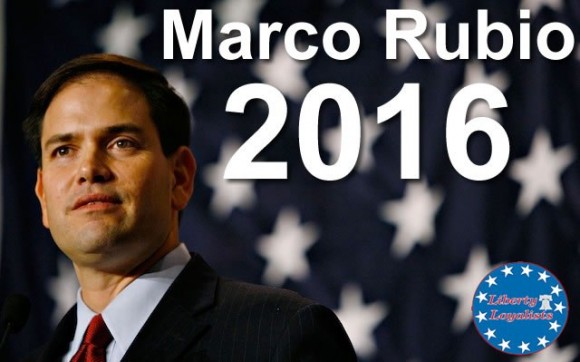 I have been reading so much lately about income inequality in the United States, how poor young people of color are doomed to unemployment or french frying at best, and if kids don't hear 30 million words by the time they are three their opportunity to thrive is all but dead.
The do-gooders want to remedy matters with tuition waivers and government assistance and a variety of other schemes.
I'll admit it, the game is rigged for so many people in our country.
And then there is Marco Rubio running for President, and he might just win.
His future didn't look so hot when he was born. Mom was a hotel maid, Dad was a bartender. They were immigrants from Cuba living in Miami. They came to America with nothing, worked hard and still didn't exactly accumulate wealth. Marco Rubio, however, bought into the American Dream. Ambition, drive, chutzpah, the "I'm getting somewhere in my life" passion, set him apart.
He was a good enough athlete to get a football scholarship to an unknown Christian college, Tarkio, in Tarkio, Missouri, which went out of business soon after he arrived. He bounced back to a junior college in Florida, graduated from the University of Florida, and then picked up a law degree from the University of Miami. He accumulated $100,000 in student loan debt in the process.
He talked his way into internships with prominent Miami area politicians and started to learn the game. He ran for city commissioner in West Miami and began to catch on to the nuts and bolts of running local government and getting elected.
He honed his speaking talent and got to know the important players in Miami and the state of Florida. Jeb Bush became his mentor and helped grease the way for the ardent Marco to become known as a comer in politics. If you are a politician it never hurts to have a beautiful wife. Super Marco married a Miami Dolphins cheerleader and they have four children today.
Marco's ascent to prominence is not unlike Barack Obama's in Illinois. A shrewd assessment of the opportunities, taking advantage of weak opponents, the ability to attract influential friends and donors, and develop the persona of a leader are attributes of both men.
I have heard Rubio speak and have been impressed by his ability and appearance of conviction and sincerity.
I love his personal story. His conservative politics are interesting though he has vacillated on immigration reform.
His feelings about restructuring college debt reflect his own difficulty dealing with debt overhang.
I don't know if Marco Rubio will be a legit Presidential candidate, but I like his bio and many of his policies. He speaks perfect Spanish too, which can't hurt.
America somehow keeps coming up with intriguing self made people who defy the negativity of their background and society's downcast view.
It's enough to give me hope in this election.
Question: Does a candidate's biography influence your vote?