I have been thinking a lot about whether America has become hopelessly stratified by wealth, race, education and all sorts of barriers that make it almost impossible for poor people to improve their status.
I have the opportunity to observe a lot of the edges of our cultural, educational and economic divide as a small business owner, grandparent, and resident of a racially mixed community.
Running a small business that does deals with both successful and struggling companies, I see how the unfolding of the post World War II industrial revolution has moved American jobs and ingenuity all over the world. First, we had Japan challenging, then China, and then the rise of Mexico to reduce the torrent of jobs going to the Far East. Automation is now reaching a new critical mass which will eliminate more low and middle level jobs. Amazon and its offshoots will continue to drain retail jobs. Drones will eventually wipe out tons of UPS and FedEx employees.
Yet there are thousands of unfilled factory jobs that evidently still do not pay enough to attract young people today. That is the real rub in my machinist world. You can offer $30 per hour for a skilled machinist, repair person or programmer and you still cannot hire her or him.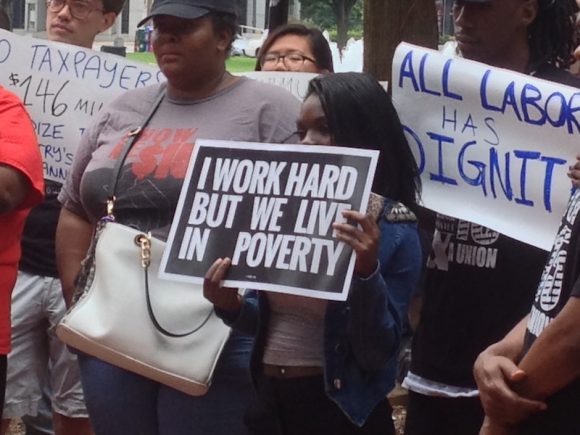 Education has failed us in America, but maybe that is an incorrect cliché. Maybe Americans have failed the education system.
I think there are all kinds of interesting opportunities available in manufacturing and a hundred other jobs in our diverse and rich economy in America, but ambition, hope, courage, a roadmap, and maybe most important, self-belief, are lacking.
I heard a really disturbing and shocking figure. Today, 60% of new births in the U.S. are to unmarried mothers. Every related statistic points to a poorer life outcome for those kids. The children of married, two-parent families have far more opportunities. And that 60% figure keeps growing while the economic gap between one parent children versus unmarried two parent homes also gets wider.
I look at my older grandchildren and see them get a demanding Silicon Valley education with the structure of daily religious education as well as supplemental athletic and dance training. Should I tell my children not to push their kids to excel because poor, unwed parents make bad decisions? Of course not.
Not coincidentally, there are virtually no African American people in their Bay Area neighborhood or school.
Where my wife and I live, our next-door neighbors are black and the schools are more black than white. My wife's educational therapy practice has more blacks than whites. Real estate values are less than half of similar housing stock in nearby suburbs. Growth in home values has been the most important vehicle for building wealth in America and most black people have been shut out. This has contributed to poorer quality schools in black neighborhoods, also contributing to the expanding wealth and opportunity gap between rich and poor, black and white.
There is little doubt in my mind that we are headed in a bad direction. David Brooks just wrote an excellent column in The New York Times entitled "How We are Ruining America", which began with this lead.
"Over the past generation members of the college educated class have become amazingly good at making sure their children retain their privileged status. They have also become devastatingly good at making sure the children of other classes have limited chances to join their ranks."
I know of no good parents who are going to stop doing everything possible to enhance their kids' chances for success.
Government programs have generally been awful failures, except maybe Head Start and Pell Grants, at changing people's self-limiting and self-destructive behavior. Throwing money at prevention of opioid addiction certainly has not worked. Planned Parenthood and abortion availability hasn't dented unmarried parenthood.
Should I feel badly if my children and grandchildren are in the more fortunate category? Perhaps, because my America has been so good to me. But, what do you do if so many people in this country cannot, will not, or believe they are so hopelessly stuck, that they and their kids will never get out of the mire?
Question: If you were a poor kid today, what would you do to succeed?