The election is over and still the country is divided. No. Not Trump vs. Biden. I'm talking about getting together for Thanksgiving.
COVID-19 has messed up holiday planning. My wife Risa and I have not physically been with our California family for almost a year. We see each other on Zoom frequently and talk over the phone several times a week. We send lots of photos, do game nights, and even have an occasional party, but there is no popcorn via the Internet. 
We long for the hugs, the breakfast coffee together, the kids walking into our bedroom to schmooze or crochet or complain about school. This you don't get long-distance, no matter how close your family is.
Along with millions of other stupid, lonely Americans, we have decided to take the risk having our family fly in to celebrate Thanksgiving together. I guess an equal number of folks have decided it is not worth the risk.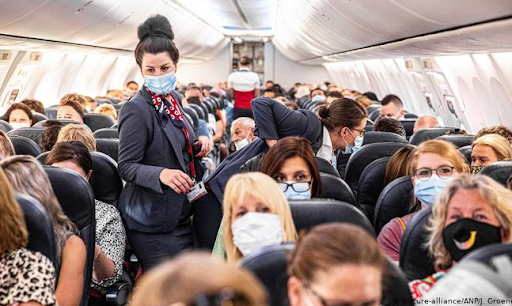 This will not be a "carve the turkey, watch half of a football game, and wave goodbye." My daughter and family will fly enmasse to Chicago and stay for 10 days. They plan to quarantine quite tightly for a week before leaving and take COVID tests shortly before they travel. Assuming they are all okay, they will figure out the safest way to get to the airport, wear masks and visors at the airport and on the plane, and keep their two rows of seats as virus-free as possible. We will drive two cars to the airport, leave one, and direct them to the parked vehicle when they arrive. They will drive themselves to our house. We have a big enough house to allow Risa and I to keep our distance. Despite these precautions, I do understand we are taking a risk as the pandemic reaches a holiday peak.
Risa and I have played it pretty safe all year. She had heart surgery in January, so we both classify as threatened old people who have had open heart surgery. But she has gone to the hairdresser several times, and we both have had friends come to the house. Noah and his wife just stayed with us for 28 days while they had extensive work done on their condo.
We have all had our scares. If you are not living in an igloo alone, you are going to imagine and really believe you have COVID at some point. Two people at Graff-Pinkert recently got over mild cases of the scourge.
Our family has made its call. We will be together for Thanksgiving. Noah and his wife Stephanie plan to be with us. My son Ari is still undecided about what he will do. He works in a rehab facility and lately has been doing group therapy with people who have had very bad COVID experiences. He also physically sees patients as a psychologist. He is very COVID conscious. Over the last several months our visits have been masked and mainly outside. 
I want to know what you folks are planning for Thanksgiving. Maybe we can share some helpful ideas that can lessen the risk. Holiday visiting is a gamble. We are going to take the risk with genuine trepidation. How about you?
Question: Is it a stupid idea this year for family to fly in for Thanksgiving?