Commitment to family is a bedrock value to my wife Risa and I. It comes before career, money, religion, friends, even the Cubs. It wasn't something we preached about frequently to our children, but we built our lives together giving each other space while always staying in touch and caring about one another.
We spent last week together, the 12 of us, in San Diego. We own several weeks at a timeshare resort, and we have been using it as a gathering spot for a dozen years. Trying to pull together the schedules of busy business people, clergy, software engineers, therapists and students can only work if they really want to get together for a week, because it ultimately is not about the dates, but the desire to be with one another in person—not on social media.
Aside from Noah, the rest of our family rarely posts anything on Facebook. Over the last week I never even heard Facebook mentioned. Throughout the year we do talk on the phone to one another, send a lot of photos, and get together face-to-face, even though my daughter Sarah lives in the Bay Area with her husband and three kids. I work with my son Noah, so we are in constant touch. My son Ari is married with a baby living in Chicago. We try to see each other twice a month.
Holidays like Thanksgiving, New Years, Passover (around Easter), and President's Day open up the calendar for extended weekends.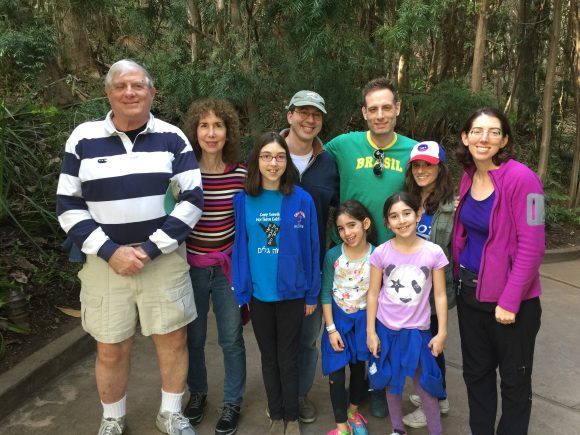 But family gatherings only work if you really like each other. You can love someone deep in your gut yet really not want to spend any face-to-face time with her, but on our trips we all like to break off into various pairs or small groups to spend quality time with people we don't get to see very often. I put out a sign-up sheet requesting a walk with each of the 11 other people on the trip. I particularly wanted to walk with my grandchildren to learn about their lives without parents or siblings chiming in. I also wanted to talk to children's marriage partners who I do not converse with so frequently. And I wanted to get to know Noah's wonderful girlfriend Stephanie better without Noah hovering close by. This is how you build family, I think.
I will never forget eight years ago when I was fighting for my life in the hospital and Ari's then girlfriend of short duration, Elissa, stayed close to Ari when she should have been at work. She defied her parents saying, "this is where I have to be now, school can wait." We "talked" by me writing her notes while hooked up to tubes. Those 14 days at the hospital were truly days where family meant so much to me and especially Risa. During the first critical night people slept on the floors at St. Francis Hospital keeping a vigil. It was a family hovering together for support.
The trip to San Diego this past week was probably my best one ever. Sarah's girls were finally big enough to play our competitive games of Taboo, Scattergories and Snake Oil. I was even able to talk about some heavy stuff like the Vietnam War to my oldest granddaughter, Eliana, on our walk.
On the last night of the trip we capped everything off by watching a fantastic documentary chronicling our trip made by Eliana on an iPad.
It was Family. It was great.
Question: What is your favorite TV show about family?