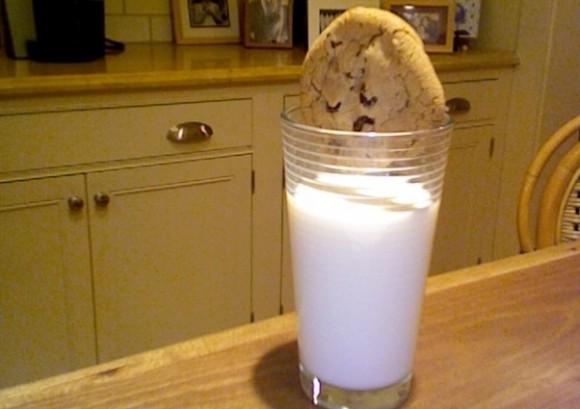 As Thanksgiving is upon us, a few issues will likely preoccupy many Americans.
Many of us will be unhappy with the quality of the cooking, and our dinner guests will annoy us. On Thursday, some people will be saddened by the result of a football game.
I like to classify these issues as "First World problems." When I get annoyed because I haven't eaten lunch by 3pm, or I get some grease on my pants from leaning on a dirty screw machine, or maybe I'm just having trouble dunking a cookie in my glass of milk (see photo), I smile and tell myself, "These are 'First World problems,'" and I feel better. Seriously, if you ask people who know me, they will tell you that I spout this line all the time. Sure, people do have real, tough problems living in this First World nation of the USA, in my opinion one of the best countries in the world to live in. But sometimes, we need to just remind ourselves to take a step back for some perspective. I'm not going hungry, I don't live in a war zone, I'm healthy (as far as I know), I live in a decent home, my government — although far from perfect — gives me freedom (maybe not as much as I'd like), and I don't have Ebola. Perhaps my life is pretty simple and easy compared to that of most people. But I believe it's mostly up to you whether you want to feel thankful for what you have in this world or focus on problems, many of which are trivial.
*******
One First World problem some of us will be encountering Thursday will be the social awkwardness that sometimes comes with spending time with "friends" and relatives.
Personally, I love my family and feel very comfortable spending time with them, but I know not everyone has that luxury, and starting and sustaining a conversation can be a painful struggle for anybody.
I recently bought a book on a whim that has been useful in navigating some awkward social challenges. It's a book about small talk, called What to Talk About.
The book is hilariously written and gives practical suggestions for making conversation at family get-togethers, at work, or on a date. One of the main principles the book encourages is to make your conversation partner tell stories. For instance, rather than ask someone, "How was your day?" the book suggests to ask, "What did you do today?" Or, instead of asking someone, "What do you do?" ask them, "What's your story?" If someone starts talking about how the weather that day is cold, instead of responding with, "Yeah, it sure is cold," you ask them about the craziest coldest day they have ever experienced.
To combat awkward pauses in conversations the book suggests playing the "Versus" game. Come into your conversation armed with some canned comparison topics to bring up during a lull, such as, "pie vs. cake," "breaking up in person vs. breaking up by phone or text," "caffeine-free vs. gluten-free for the rest of your life," and "wine vs. beer."
I love this book. It's brilliant. It even has a wonderful section about what to say on a date if you fart by accident.
It's my sincerest hope that all of you have a fun, relaxing, socially un-awkward holiday. I hope you are able to appreciate the great gift it is to live in America, despite its flaws. People all over the world would kill to switch places with us.
Questions:
What is your first world problem?
Cake vs. pie?
Caffeine-free vs. Glutten-free for the rest of your life?