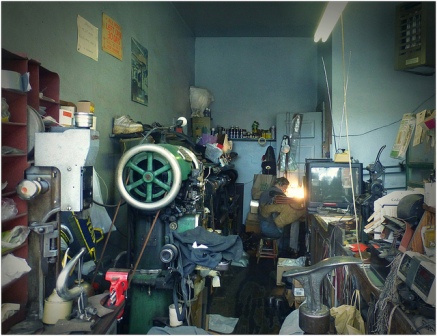 This coming Sunday I'm competing in an amateur salsa dancing contest. Unfortunately the suede bottoms on my special dance shoes had become damaged a few weeks ago so I had to scramble to find some new dance shoes.
At the dance shoe store in the Andersonville neighborhood of Chicago, I couldn't find any shoes that I loved, so one of the women working there suggested I go to a cobbler nearby called Masters Shoes Repair, where they refer many customers.
Before going, I read the reviews of the cobbler on Yelp. The place had received several reviews of five stars in which people referred to the elderly cobbler as a "master craftsman." However, there were other reviews that gave him one star, in which people referred to him as an old curmudgeon and even called him a "Shoe Nazi," a term inspired by the hilarious "Soup Nazi" character on Seinfeld.
I had to check the place out, both for my shoes' sake and just for the experience. My anticipation to meet a hostile and colorful character had heightened when I called the store before going to ask if he thought he could repair my shoes. The man on the phone told me that he had to see the shoes in person, then abruptly hung up on me.
I went to see the cobbler with a friend. The cramped, cluttered, musty shop seemed to be about 20 x 10 feet. There was a sticker on the register of an upside-down American flag. The equipment was likely 50 years old, although I think that may be typical for shoe repair equipment. We were greeted by a short man, probably in his 70s, with a thick Eastern European accent. I explained to him that I wanted the soles of my shoes replaced. He exclaimed in a negative tone that in all his years in the business he had never seen shoes like mine, which didn't surprise me, as they were an obscure designer brand and I had purchased them at a used clothing store (they were unworn when I bought them).
The cobbler told us that the only dance shoes he works on are women's. Only once in his lifetime of repairing shoes had he worked on a man's dance shoes with suede bottoms. From a drawer he pulled out a thick sheet of suede wrapped in paper that he had used one time 20 or 30 years ago. I was wary of using it, as was he, because it was three times as thick as the suede soles currently on my shoes. After scrutinizing the shoes with him, he reluctantly said that for $40 upfront he would glue the thick suede on the heels of the shoes while leaving the remainder of the bottoms as they were. I wasn't sure if that was what I wanted to do, so I asked some more questions, which greatly annoyed him. After a minute more of my prodding, he proclaimed in his thick Prussian accent, "I wouldn't work on your shoes for $100!" Then he asked us to leave. "No shoes for you!" we said to each other laughing after we exited the store, imitating the classic Soup Nazi line, "No soup for you!" I was both amused and frustrated by the experience, but I also felt relieved that I had not taken the option the Shoe Nazi had offered me. Neither he nor I were confident that it was the right solution.
The next day, I went to a different shoe repair man, Elijah Malik, owner of the shop Your Shoe Repair, who I had interviewed for Today's Machining World several years before. I probably should have gone to Elijah first, but I had been intrigued by tales of the Shoe Nazi.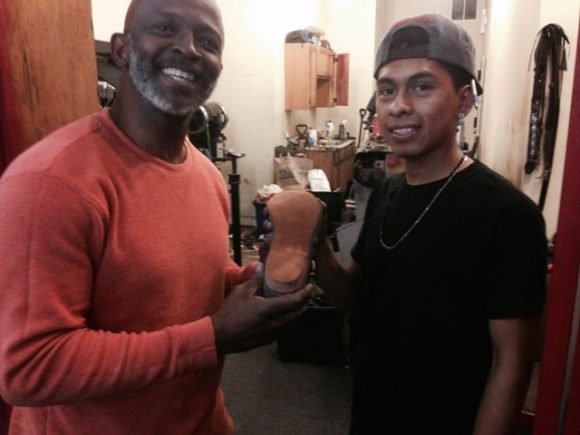 Elijah is a charismatic, intelligent guy, who runs an aesthetically pleasing store. He shines customers' shoes and consults with them about their shoe repair needs. He employs a shoe repairman to work on the shoes in the back room, while he runs the business. Elijah beamed when I came into the store and told me right away that he could repair my shoes. He said he had done something similar for a past customer. He gave me a half price deal, $35 upfront. I'm a VIP after doing the article on him.
I walked through the back room of the store to use the bathroom and I noticed a short Mexican kid working on the shoes who looked like he was a teenager. I must admit I wasn't 100 percent confident when I handed my shoes over to Elijah, because Elijah is the kind of guy who doesn't want to say no to any customer. I also was a little skeptical of the kid working on the shoes after just being in the company of a shoe repairman with 50 years experience.
A week and half later my dance shoes were finished. A new layer of suede was glued over the old one — on the entire sole, not just the heel — and it was much thinner than the one the Shoe Nazi had offered. The soles now look like new and the shoes dance like new.
I needed to meet this Mexican kid who brought my shoes back to life. His name is Sergio Felipe Eusebio. He came to Chicago legally with his family one year ago from Mexico City. He said that he had learned to repair shoes from his father in Mexico 9 years ago when he was 12. His dad also repairs shoes at a different store in Chicago.
After I got my shoes back I confessed to Elijah that I had been a little skeptical upon giving him my shoes. I told him the story of the Shoe Nazi and asked him if he ever said no to certain jobs. He told me that he seldom says no to customers, but he also said that he has been thinking lately that he needs to start saying no sometimes. He said that many people come to him with unrealistic expectations for their shoes and that some customers are impossible to please. That's the reason why shoe repair guys like Elijah and the Shoe Nazi insist on being paid before they do any work.
I respect both shoe men. Although the Shoe Nazi acted like a jerk, I respect his honesty. He appears to take pride in his craft and he didn't want to do work that I likely would not have been satisfied with. Elijah however, was open to using creativity to take on a challenging job. He had youthful talent at his disposal and he had balls. He runs a modern business, while the Shoe Nazi appears to be satisfied with doing a quality job the way he's done it for 50 years.
Question: Do you go to certain places where the product is so good that you don't care if the service is nasty?