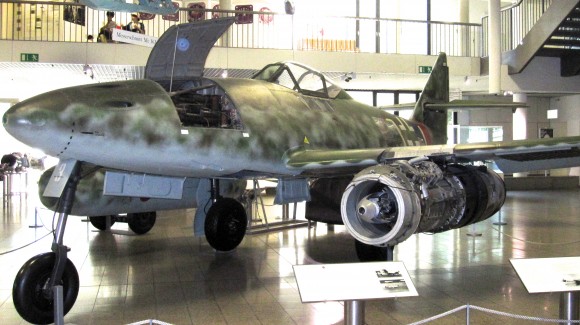 I recently spent two weeks traveling through Germany, visiting various screw machine shops and dealers. Before I began visiting customers, I took the opportunity to spend my first weekend in the country as a tourist in Munich. I chose to start the trip in Munich because the first annual Munich Salsa Congress was taking place. (I try to go salsa dancing in every place I travel for work.) I also had read that the city was beautiful and ranked as one of the best places to live in the world. And I planned to visit Dachau, the concentration camp only a half hour out of town. I had never been to a concentration camp, so as a Jew, I felt going there was the right thing to do.
Before I left, I asked my dad what he knew about Munich, as I regard him as well traveled and generally quite culturally literate. My father's answer was that Munich made him think of Neville Chamberlain's appeasement of Hitler, and the dreadfully tragic 1972 Olympics held there, during which Palestinian terrorists murdered nine Israelis. But I went in with an open mind, maybe because those things had happened before I was born. I was excited about the salsa dancing, seeing the famous beer garden in the city's English Garden, and anticipating the rush I get from traveling internationally. It's so refreshing to me to walk around in a place where people don't speak English, don't use dollars, and think and act differently than Americans.
Despite that I was running on fumes after two hours of sleep over the last 36 hours, I hit Munich's sights right away. I visited the Deutsches Museum, a museum dedicated to German engineering with a lot of emphasis on aircraft history. I thought it was only fitting that I should go to an engineering museum in Germany, on a trip dedicated to visiting German manufacturers.
One display that caught my eye was an Me 262 jet fighter plane from WWII (the first jet fighter ever used) , which curiously was missing the swastika decal on its tail. People told me prior to the trip, that in Germany–as well as some other European countries–you can be jailed for wearing a swastika. Although that first seemed strange to me, coming from the Land of the Free, I get it. The law may stem from the fear that the icon could somehow fuel a renaissance of Naziism–the government doesn't want to take any chances, even if it infringes on freedom of expression. Later that day, in a store window, I noticed some old coins from WWII that had little white stickers on them, which I realized were covering small swastikas. Seeing the stickers after just seeing the altered airplane decal was slightly unsettling to me. It made me ponder if the people in Munich were trying to forget their horrific past. But the swastika represents the darkest period of the country, which German people are repeatedly taught to feel ashamed of. Can I blame them for not wanting to look it on a daily basis?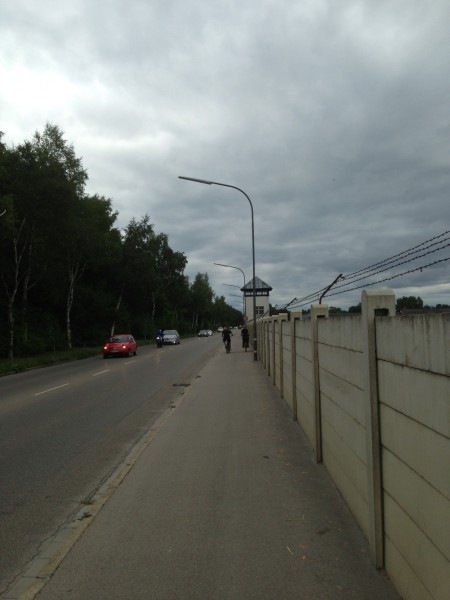 Sunday, my final day in Munich, I visited Dachau. I felt a little strange asking people at the train station how to get there. Were they thinking, "that tourist must be going to the concentration camp"? I learned that Dachau is actually the name of a small village, with its own train stop a half hour from Munich. When I arrived at the stop, I had to walk about 30 minutes to reach the camp. There was a bus from the train station, but I didn't know when it would come, and I decided it would be more fitting to walk from the station, like the prisoners had to 70 years ago. Before I arrived at the camp, I was taken aback by all the normal homes throughout the town. There were nice modern condos a mere 200 feet from the camp gates. Does it bother people to look at the rusty barbed wire fence outside the camp every day? I'm not sure. Would it bother me to see a plantation in Georgia where Americans were enslaved for centuries? I must admit, I think I might get used to it.
Exploring the camp was moving, as I expected, but I didn't break down in tears as I walked in the crematorium where the bodies were disposed of, saw the "showers" and the cramped barracks. It was a surreal experience. It was hard to believe I was actually there, standing in the place where all of the horrific atrocities occurred against my ancestors. It made all of the Holocaust stories I had read about and seen in movies more real–that was important. But I must confess, I cried more watching Schindler's List.
**************
Aside from the hotel desk clerks in Munich, who were somewhat cold and disinterested in my tourist questions, I really liked the people I met throughout Germany. The machine shop owners I visited were generous with their time, took me out to lunch, and gave me a thorough education on how running a business in Germany works. (It's tough. We forget how good we have it here.) Unfortunately, most of the guys I visited usually don't buy used machines, but they treated me with respect and maybe they will give me the time of day if I can find them an INDEX MS 32. (There is another blog coming soon specifically about my visits with customers.)
I drove all over the country, traveling around Stuttgart, then up to Cologne. On the way to Cologne, I spent the night in Karlsruhe, a medium-sized university city. The place was dead by the time I sought out food around 10:30 p.m. Every restaurant was closed aside from a little kebab shop, likely owned by Turkish folk. Germany is full of wonderful kebab shops run by its considerable Middle Eastern population.
In the restaurant, I met a German college student named Christoph who helped me order my kebab, because I wanted to tell the guys at the counter not to add yogurt, but they didn't speak English. For the next half hour we ate our delicious kebabs, talking about German culture and politics. He told me about the Germans' shame from the Holocaust, saying that until Germany's 2006 World Cup victory, the people were even bashful about waving German flags. He also talked about the generational differences among Germans, and the country's complex views of Israel.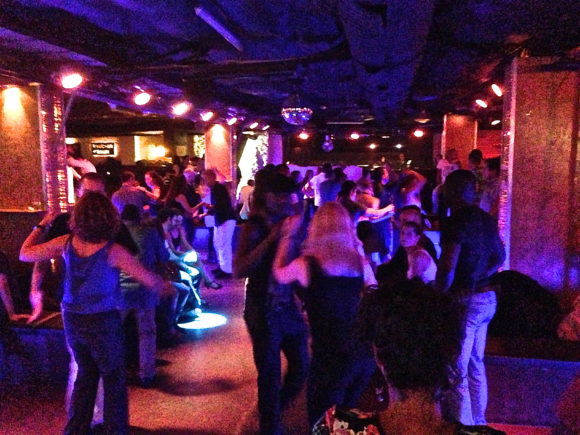 One of the highlights of the trip was that I got to go salsa dancing in Munich, Cologne and Berlin. I was quite impressed with the dancers. The women were able to follow my L.A. salsa style, even though they generally only knew the very different Cuban style. I am blatantly stereotyping now, but when I think of German people, I think of people with a high technical aptitude and people who are willing to follow rules. Perhaps those characteristics made the German women such good salsa dancers. In any case, they know what they're doing. I'll be happy to go back there soon.
Question: What do you think of when you think of Germany?
Noah Graff is a machine tools dealer at Graff-Pinkert & Co. and an editor at Today's Machining World.