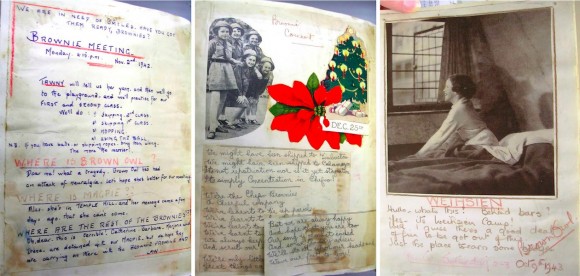 On Thanksgiving our family goes around the table and each one of us tells what we're happy about and thankful for in our lives.
What's fascinating about humans is how one person can feel miserable by a certain set of circumstances, while a different person feels happy and thankful about the same scenario.
National Public Radio's "This American Life" ran a story earlier this year chronicling a group of girl scouts held captive in a Chinese concentration camp during World War II. In 1941 a group of mostly British and American children, who were attending a boarding school in the city of Chefoo, China, were shipped off to a concentration camp called Weilsien after the Japanese invaded the country. Their teachers also were sent to the camp, but the children's parents, mainly missionaries, were sent elsewhere.
In the camp, the teachers took it upon themselves to maintain the dignity of the children, enforcing strict rules of conduct in an environment which could have easily resulted in a collapse of standards of discipline. For instance, when the children were served their meager meals of bread and water the teachers would correct the students if they had poor table manners such as slouching or chewing with their mouths open.
There was a large troop of girl scouts among the children, called "Girl Guides." The Girl Guides' leaders, known as Brown Owls, sought to run the troop as if it were any other Girl Guide troop whether in a concentration camp or not. They kept up the spirits of the girls by giving them tasks to earn merit badges and making them sing songs. The girls had contests to see who could collect the most coal shavings left over by the guards, which the prisoners would then recycle to make their own coal bricks to keep warm. The positive energy of the children inspired the depressed adults in the camp when they saw the kids always smiling, singing and insisting that everyone keep washing.
The radio program interviewed Mary Previte, one of the Girl Guides, who at 82 years old recounted her experience in Weilsien with such enthusiasm that it almost seemed as though she was describing life at summer camp, rather than a concentration camp.
She said that she couldn't feel depressed when they sang beautiful songs, such as Psalm 46, with the words, "God is our refuge, our refuge and our strength. And on it goes. In trouble we will not be afraid." She said the songs made her and the other prisoners feel safe and gave them the spirit they needed to survive.
We can't ignore all the hardship and problems swirling around in the news and in our own personal lives, but if life ever feels unbearably bleak and joyless, think of the girl scouts in the Chinese concentration camp who could feel happy and safe just from some leadership, merit badges and songs.
Listen to the NPR podcast here: www.thisamericanlife.org/radio-archives/episode/559/captains-log
Question: What are your favorite memories as a boy scout or girl scout when you were kid?