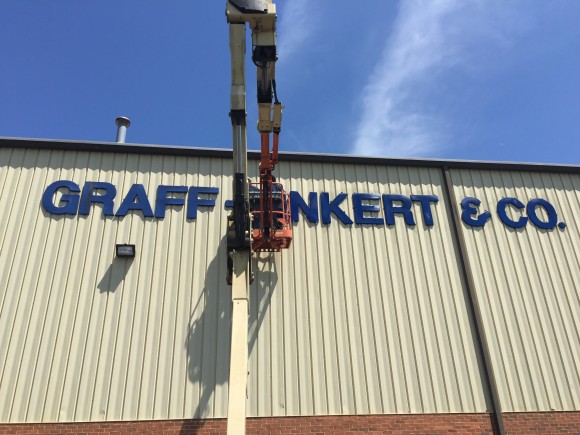 What is a letter worth?
Specifically, the letter "N" in a company sign, 30 feet above the ground, three feet tall, made of 31-year-old weathered, brittle plastic.
Our letter "N" in "Pinkert" on our business sign "Graff-Pinkert" fell down in a windy rainstorm a few weeks ago leaving an empty space between the I and K of the name Pinkert near the top of our 35' high warehouse exterior.
This is one of those contingencies you don't plan for. The sign had held up perfectly for over 30 years. If you think about it, which you probably never do, you figure it will outlast your need of the building. It's sort of like your nose, you really don't think about replacing it. Then suddenly, you lose your "N".
But it's only a sign. It's the digital age. Customers don't come often to our warehouse. They can view machines on video on their computers. And Aaron Pinkert, my father's partner, retired 30 years ago and has long since passed away. His family has no association with the company. He was a good man, and I worked with his son Dan during summers, but Dan became a lawyer for Amoco and Aaron sold out to the Graff family.
But my father and I retained the Pinkert name for the company all these years. It's an artifact, I suppose, but it's part of our brand.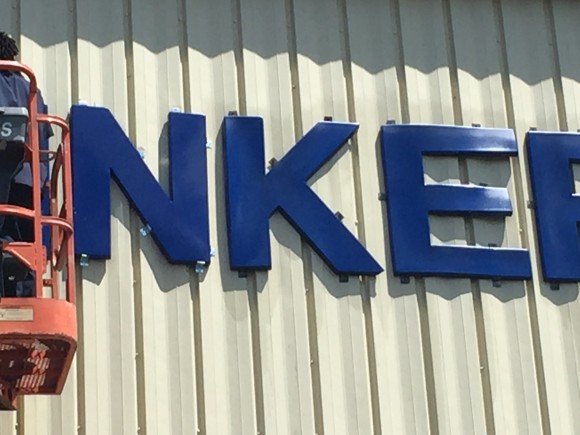 I like having personal names on the company. Calling ourselves Perfect Machinery or Ideal Machinery or Oily Machine Tools just never felt authentic. It felt generic and bland. So I kept Graff and Pinkert and kept the stationery (although who uses stationery today?).
But after 31 years we suddenly had this pesky N problem, that seemed like it had to be dealt with.
First we had to find an "N" maker. It didn't make sense to replace the entire sign if only one letter was in pieces. We found a plastic sign maker and sent him a fragment for color matching and photos to match style, but he had to know the exact height of the existing letters to produce a perfectly matching N. Our letter was incomplete so we had to physically measure the existing letters in the sign. This required renting a hydraulic cherry picker, having it delivered to our parking lot, and sending a person up 35 feet to measure the letters. It cost $500 to rent the machinery for a day.
We took our measurements, sent them to the sign company, and waited for our letter N. It arrived in a week and we had to rent the cherry picker a second time to mount the letter. It was shinier than  the 30-year-old letters, but a very close match. From 50 feet away nobody could tell the difference. Yesterday we replaced the N in Pinkert. It cost about $1300 for this enterprise, quite a bit less than my recent knee replacement. I felt a sense of completeness that our name was now correct on the building. Pinkert was back, even though Aaron was long buried.
It was important to me. In a world of sameness with 35,000 McDonald's franchises, interchangeable TV news anchors and generic aspirin, we had our singular brand, almost 75 years old – intact.
Question: Is a brand valuable for a job shop or is it all about price?